This blog will serve as a helpful introduction to the new Out of the Box Script Editor Web Part for SharePoint 2013/ Office 365. I stumbled across this Web Part recently after trying to use the Content Editor Web Part and realizing that it does not work as expected in certain scenarios. The new Script Editor Web Part makes it very easy to add HTML or JavaScript to your site.
The Content Editor Web Part still seems to work fine for HTML or XHTML. However, if you attempt to add JavaScript to your page using the Content Editor Web Part in SharePoint 2013, the script tag entries will be removed. In SharePoint 2013/ Office 365, any script should to be entered into the Script Editor Web Part.
The following is a simple step-by-step guide of how to use the Script Editor Web Part to add some client side logic to your page. This example will place a button on a page and call JavaScript from a mouse click to open a newform.aspx page in a modal dialog. The site I'm working with is an internal SharePoint site where users can click on a button titled 'Leave a Comment' to submit comments or feedback.
Note: For this scenario, since I was simply using an XHTML input tag with the onclick client-side event attribute to call the JavaScript, the Content Editor Web Part would have likely worked fine. However, I wanted to document an example I thought other users might find helpful (opening a NewForm.aspx page in a modal dialog from a button).
Step 1) Edit your page, select the Web Part option from the Insert tab in the ribbon, then select the Script Editor Web Part:

Select Add to insert the Web Part onto your page.
Step 2) Click the EDIT SNIPPET link to insert your HTML or JavaScript code: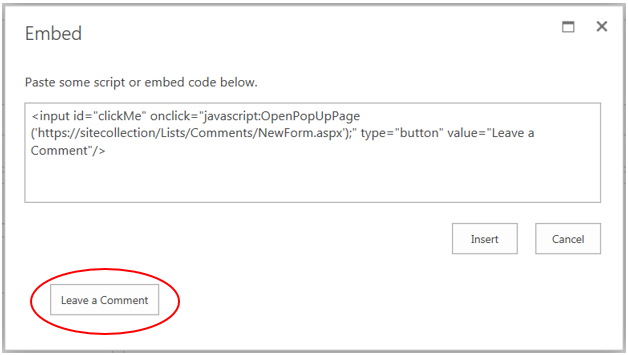 Notice that as soon as you place your code snippet into the box, it will show you a preview in the lower left corner. Select Insert when you are finished, then save your page.
You'll need to be sure that you have a Custom List created ahead of time to link to. Also be sure to set the Chrome Type to None in the Web Part settings to remove the title and border.
From there, click on the 'Leave a Comment' button and your NewForm.aspx page will open up in a modal dialog: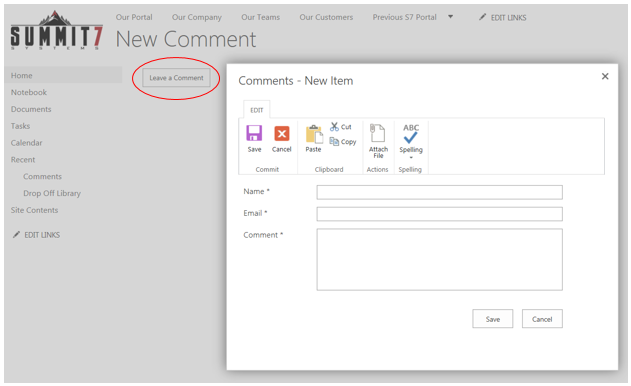 You can of course always add some pretty styling to make it look much nicer. You can accomplish this with the Script Editor Web Part as well to add CSS inside of <style> tags. This is probably the best option if you are only wanting to make styling changes to a single element on your page.
In summary, if you are needing to add HTML or JavaScript to your SharePoint site, you can do just that with the easy to use Script Editor Web Part. Thanks for reading. I welcome any feedback!