I had a great time at the Devintersections conference a couple of weeks ago in Vegas, where I did a couple of sessions on Client Side development and a full day workshop on an Introduction to Client Side Development in SharePoint. The interest level of the topic of Client Side Development just continues to grow and grow and I'm excited to be in the midst of it all learning and growing with everyone else. Also, due to the current Cloud movement, the importance of Client Side Development is only going to keep growing. If you haven't taken the time to suck it up and learn it, you really should.
Thanks again to all those who attended, hope you learned a lot and are out there making useable apps and happy users.
I've posted the slides from my workshop on SlideShare for those interested: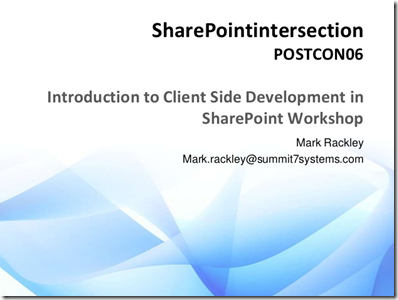 You can also find all the code from my workshop as well as an SP Hosted AngularJS app on Github at:
Feel free to dig around in the code and maybe learn a trick or two, or heck teach me a trick or two. I know I'm still learning. I could definitely see myself expanding the workshop to a 2 or 3 day course at some point if there was enough interest, but I think I'd need quite a bit of motivation to make that a reality.
Also, while I was in Vegas hanging out with some of the most awesome SharePoint people on the globe, several of us had the privilege of being part of an episode of the Microsoft Cloud Show hosted by Andrew Connell (@andrewconnell) and Chris Johnson (@LoungeFlyZ). They posted the episode today, check it out and be sure to listen to the Microsoft Cloud Show regularly. These guys know what they are talking about, or at least with CJ's accent it SOUNDS like he knows what he's talking about.

Devintersections is a great conference that covers more than just SharePoint, so check it out should you get a chance.
Next up for me is SPLive in sunny, humid, and tourist-filled Orlando, FL next week! If you are in the area, please stop by and say hi!!
Cheers!