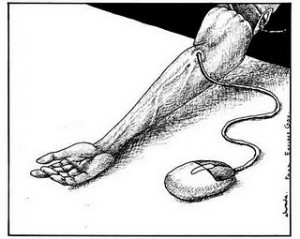 HELLO. MY NAME IS JASON MILLER AND I AM A TECHNOLOGY ADDICT.
The first step is admitting you have a problem, right?
A month and a half ago I made a commitment. No, of course I didn't say I was going to quit technology, are you kidding me!? Who would do that?
I said I'd come to work for Summit 7!
I didn't want to speak up and say anything a month and a half ago because... well, you know how it is - you start a new job and you just have to test the water and work your way into it nice and easy. I'd spent the last six years at a federal agency solving hard problems in a single project. Now I'm here solving hard problems for multiple projects!
It's quite an adjustment to go from federal government to private industry. I can say beyond the shadow of a doubt that I made a very wise choice. I've come to know and love my new teammates here at Summit 7. It's a blast working with them. There are some scary smart people working here and I'm humbled to be among them.
Over time I'll use this blog like any other - I'll post thoughts and wisdom I've gleaned from all over the net and in the real world. We're all in this together and stuff. You may not always find that my posts are SharePoint - specific, however. I've not always worked in SharePoint environments, you see? I love technology so much that I enjoy working with all of it. I'll try to keep the categories clear so you can filter out the posts you don't want to see.
For now, just this introduction (and if you want to know the hard facts about me, go here to the S7 bio page). I thought maybe after a month and a half, I should at least say hello and how great it is to be part of this fabulous team!