Microsoft has made some big splashes lately in snatching up large government agencies and turning them into firm cloud believers and spokespersons. Don't believe me? Just Google "Office 365 and Texas".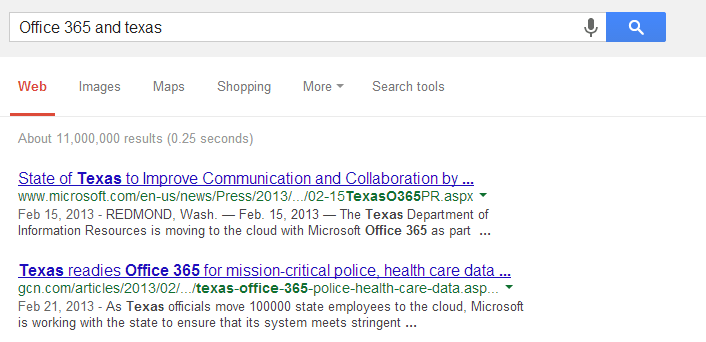 If 11 million results don't tell you something, this blog is not for you. Microsoft's market share of cloud services is getting bigger and bigger. Before we know it, the cloud just may be the closest thing to on-premise networks we have.
Okay, that might be a stretch, but I thought it would be nice to be among the first to say it before it happens. ;-). After all, people didn't think we could talk to each other without a wire connecting us, and now we actually talk to our phones. You can thank Siri for that!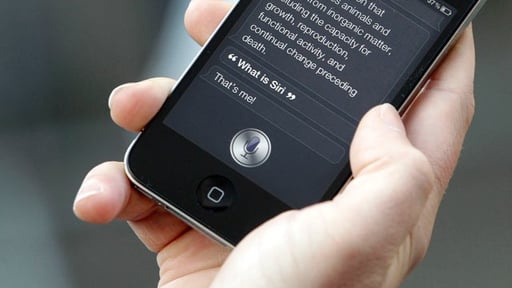 Microsoft has been working strategically to provide assurance that its cloud services meets and exceeds federal agency security and privacy regulations. Those are some big pants to fill and to prove they're serious they even signed the CJIS Addendum, in addition to a HIPAA Business Associate Agreement, as part of a partnership for the State of Texas (view Microsoft's press release).
"We've worked hard to provide security and privacy solutions the State of Texas can trust," said Michael Donlan, vice president for Microsoft's State and Local Government business. "The familiarity of Office backed by deep investments in cloud security, privacy and compliance play an important role in how Microsoft is enabling city, state and federal agencies to move to the cloud."
So what does this mean for those of us that aren't as big as Texas?
You know everything is BIGGER in Texas!
As I've worked with companies in various verticals and industries, I've come to find one thing to be true; everybody wants to save more, and do more with less.
Many companies are following this trend of minimize their IT staff, repurposing as many resources as possible, and outsourcing what they can. The sad fact is that outsourcing doesn't always equal better services or IT solutions, let alone take the pain away from paying for good ole' IT management.
Often times, the outsourcing just shifts who's responsible for ensuring that behind the scenes everything is good. Sometimes companies should do a better job at choosing how good the outsourced company is, before relying on them for their services, but that's another blog.
So how is Microsoft's Office 365 shifting the cloud discussion for everyone else?
For the federal contractor and small business sectors, one of the critical facts considered, is not about how fast, but about how secure everything will be. I know speed is important, but having the fastest servers and being wide open to getting hacked by my 83 year old grandmother won't do you any good. When companies are competing for bids, working on top secret projects (side note: always confirm and comply with your company's policy regarding storage of personal or classified information in an O365 environment!), or just managing IDIQ contracts as incumbents, the last thing you want is your information compromised.
I've seen it all. Companies with no firewalls and then those who invested just as much money in hardware for security as they did in the company jet. Unfortunately all that money couldn't keep people out of their on-premise networks. At least they could enjoy a good flight with free checked bags.
I know you may be thinking, everyone; including Microsoft, Google, and Amazon, may be vulnerable and this is true. The key as a company is maximizing your risk mitigation factors while minimizing how much you're shelling out to actually keep your risk low.
Why Office 365?
According to Karen Robinson, Department of Information Resources executive director and State of Texas chief information officer, "The enterprise-class capabilities of Office 365 and Microsoft's proven track record gave us the confidence we needed to move to the cloud".
Think about this fact: Microsoft has way more people employed to fight against security breaches than most companies could think of hiring, just to keep their internal data safe (see Trustworthy Computing Report).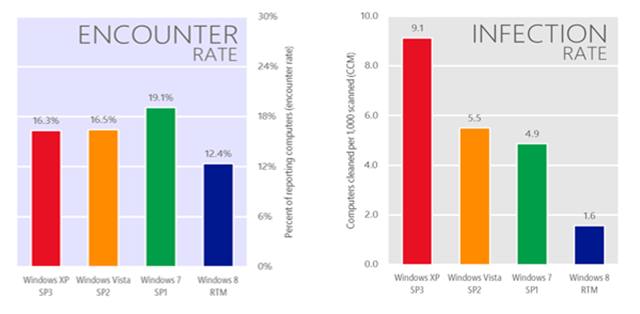 Most companies that I've worked with have the same goals. They want to grow, earn more revenue, hire more people, and provide some service or good. In the federal and small business sectors, it's even more cut-throat as companies bid to unseat an incumbent, find ways to do more work, perform capture, proposal development, and just manage everyday life. The bills don't get cheaper, office space and overhead are always lurking, and you need a good infrastructure to meet the demands of your organization. While having infrastructure on-premise is great, Office 365 is a good alternative for those trying to stay lean.
In the end, the goal is to maximize what you are good at, minimize the expenses around what you're not good at, and let those that are good at what you need take care of it for you. Texas and California are two states showing the Microsoft Office 365 environment is friendly, secure, and affordable; maybe we'll see another growing trend as the small business sector takes note. After all, government agencies are usually the last people to shift and change.
Reference: http://www.microsoft.com/en-us/news/press/2013/feb13/02-15texaso365pr.aspx