This is the first in a series of blogs created to offer a quick glance at the managed metadata service and the term store for SharePoint Admins, Power Users, or just your average SharePoint user.
Taxonomy, Term Store, MMS, ECM, WCM, Users, SharePoint Saturdays, PowerShell, Super Bowl, Sugar Bowl, Iron Bowl, Final Four, Little League. Okay, so you've probably heard, read or even searched for some of those terms before. They are all relevant in some way or another, but we are often recipients of someone already setting them up for us to use, like in Google Search.
The idea of the managed metadata and the term store within your organization can be daunting and somewhat mind boggling if you've never seen it before. You also could be a power user who has seen it, but doesn't know enough to get in and help empower your organization. Over the years, I have heard so many questions about Managed Metadata Service (MMS). Questions such as: What is its purpose? How should I use it? How do I create a term set? Should I use a new group? Do I add a term to an existing term set?
To answer those questions and more, I will be writing a series of blogs on the term store and how to use it. This will be a short series you will not want to miss, and if you know any SharePoint Administrators, Site Owners or Power Users, share this series with them. You never know who may week for the next few weeks until we get through this area of SharePoint Information Architecture. If you have any questions please leave a comment below or shoot me an email at eric.harris@summit7systems.com.
Overview
Knowing where to find the MMS seems like a great starting point. To access it, open up SharePoint 2010 Central Administration (CA), and look under Application Management.
Select the link for "Manage service applications". For this first blog I'm not going into a lot of details on what some foundational things are like the service applications, but will try to get right to the point, which is how to use the MMS holistically.

Find the "Managed Metadata Service" in the list and click on it.
From here you will see the page split into two columns and the left column split into two rows.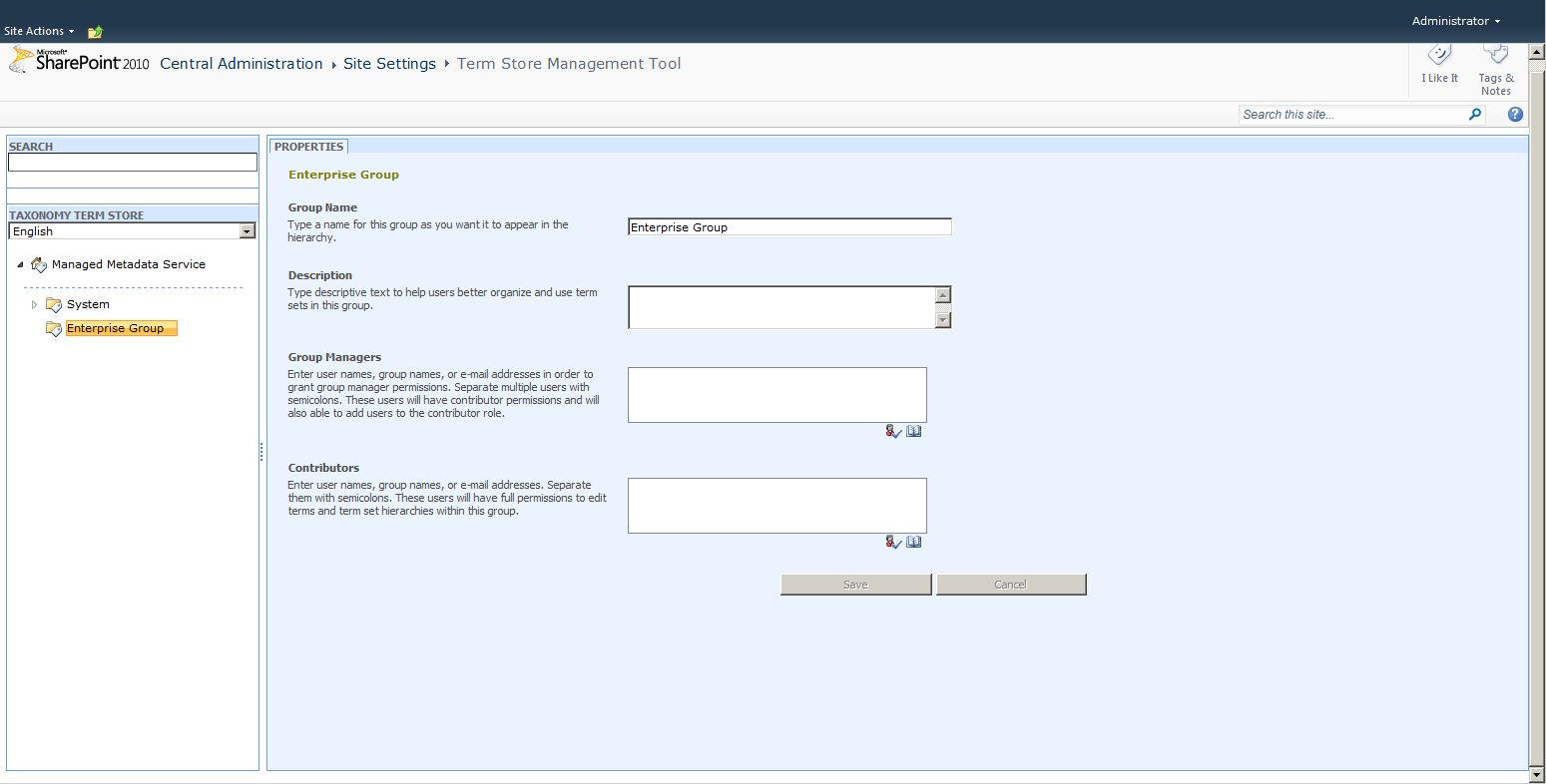 You can search for a particular term using the "search" section on the left and you can manage the term, term set, or group properties on the right. Depending on which level in the hierarchy you are at, the properties and functionality available on the right will change to reflect the appropriate settings.
Understanding the Hierarchy
The below diagram describes the basic hierarchy of term groups, term sets, and terms. This can be as detailed as you want and there are some great blogs out there on taxonomy and term set management. Definitely do your homework before creating them, but do understand that it's not an overnight process either.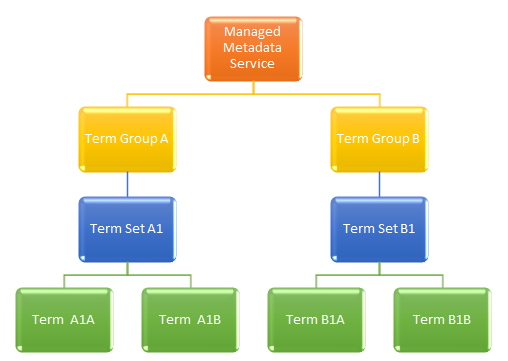 Under the Managed Metadata Service you have the option to add new groups. These groups allow you to do a lot more granular level provisioning, term set access and term group management control. It is also helpful in targeting specific term sets to specific areas of your platform such as navigation, web apps, and more. Think of a "term group" as a boundary level within the term store and a "term set" as a secondary boundary underneath a term group. Of course the "term" would then be the final boundary underneath the term set.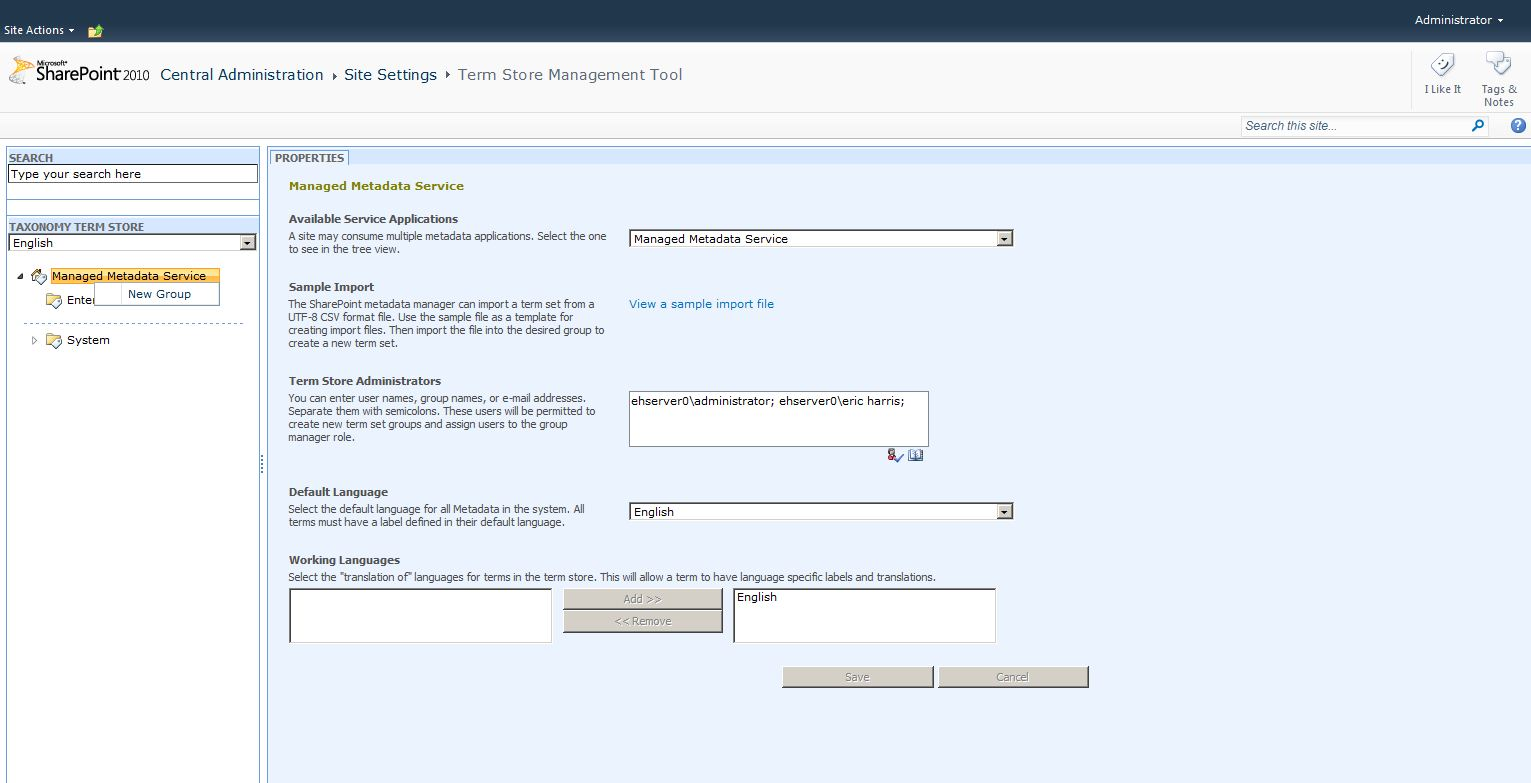 Using the term store effectively
When creating terms, Microsoft offers some suggestions to use as guidelines. You can of course go beyond the recommended limits, but as with anything the more you have the more you have to manage. Also, if you go beyond the recommended limits, it will become unsupported by Microsoft should you run into any errors.
| | | |
| --- | --- | --- |
| Limit | Maximum value | Notes |
| Maximum Number of Nested Terms | 7 | This means that each term set can have a term; with a term continually drilling down unto you reach six levels deep. (You can go deeper, but it is not supported by Microsoft) |
| Maximum Number of term sets in a term store | 1000 | This means you can have up to 1000 sets with terms underneath them. |
| Maximum recommended number of terms in a term set | 30,000 | Microsoft was generous with this number. You can have almost as many terms as you want in a term set. Using labels such as synonyms or translations do not count as separate terms. |
Managing a term group
Within a term group you will have permissions, number of term sets, and the terms underneath that should be planned for. Don't make it overly complicated, but definitely take some time when exploring how to implement such.
Permissions:
Term Groups: You can assign two levels of permissions for each term group: Managers and Contributors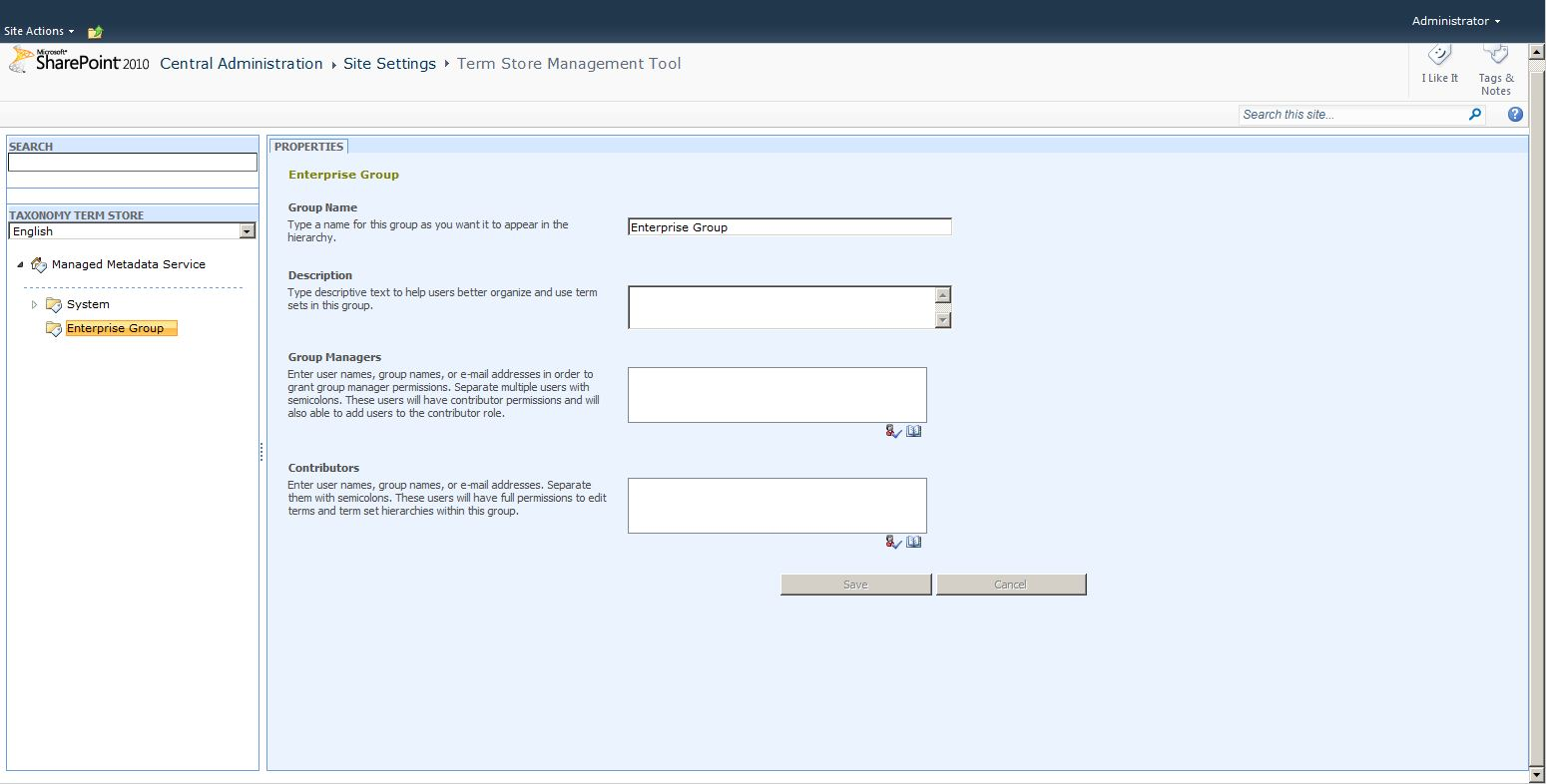 A manager has the ability to add and remove users or contributors as well as manage the term sets and terms within the group.
A contributor has the ability to manger the term sets and terms within the group.
Think of the difference just like giving out site owner and site member roles for OOTB SharePoint Team Sites. Owners can grant permissions to the site as well as add and edit content, while members can only add and edit content, not permissions to the site.
Adding a new term set
When looking at creating a new term set, you are presented with two options. You can create a new one manually or you can import a term set.
Importing a term set
You will notice you cannot import a group, but must create the group and then import term sets into that group. When importing a term set you can download a sample file by navigating up to the Managed Metadata Service and right clicking on the "View a sample import file".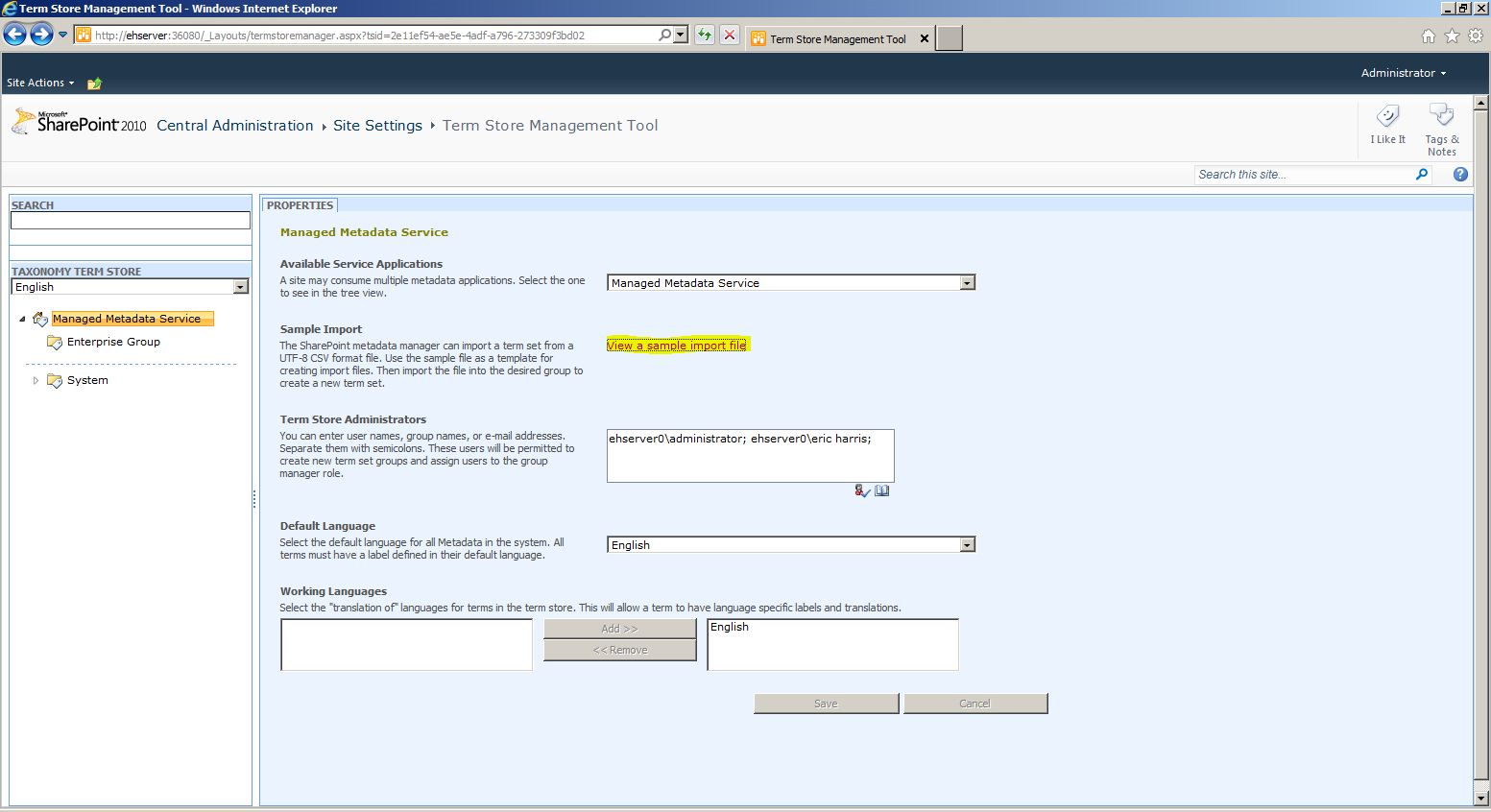 Open the file in Excel and you will notice a neatly structured file that you can replace with your values and then save. Below is a table listing out the columns in the file:
| | |
| --- | --- |
| Property Name | Description |
| Term Set Name | This will be the display name of your term set |
| Term Set Description | This can be used to describe the terms within your term set. |
| LCID or Locale ID | This is a decimal value that identifies the locale that corresponds to the language of the term. Leaving this field blank will cause the default locale of the term store to be used. |
| Available for tagging | This can be true or false and determines whether the term can be used to tag items or not. |
| Term Description | This can be used to describe the term. |
| Level 1 Term | This is your top level term. |
| Level 2 Term | This would be one term under Level 1. |
| Level 3 Term | This would be one term under Level 2. |
| Level 4 | This would be one term under Level 3. |
| Level 5 | This would be one term under Level 4. |
| Level 6 | This would be one term under Level 5. |
| Level 7 | This would be one term under Level 6. |
Here is a note from TechNet:
See Wictor Wilén's blog for information about a tool to import term sets that was developed by a member of the SharePoint community.
After you have added all your terms to the import file, simply click and follow the instructions when importing. You will then see your new term store set available for managing in the term group.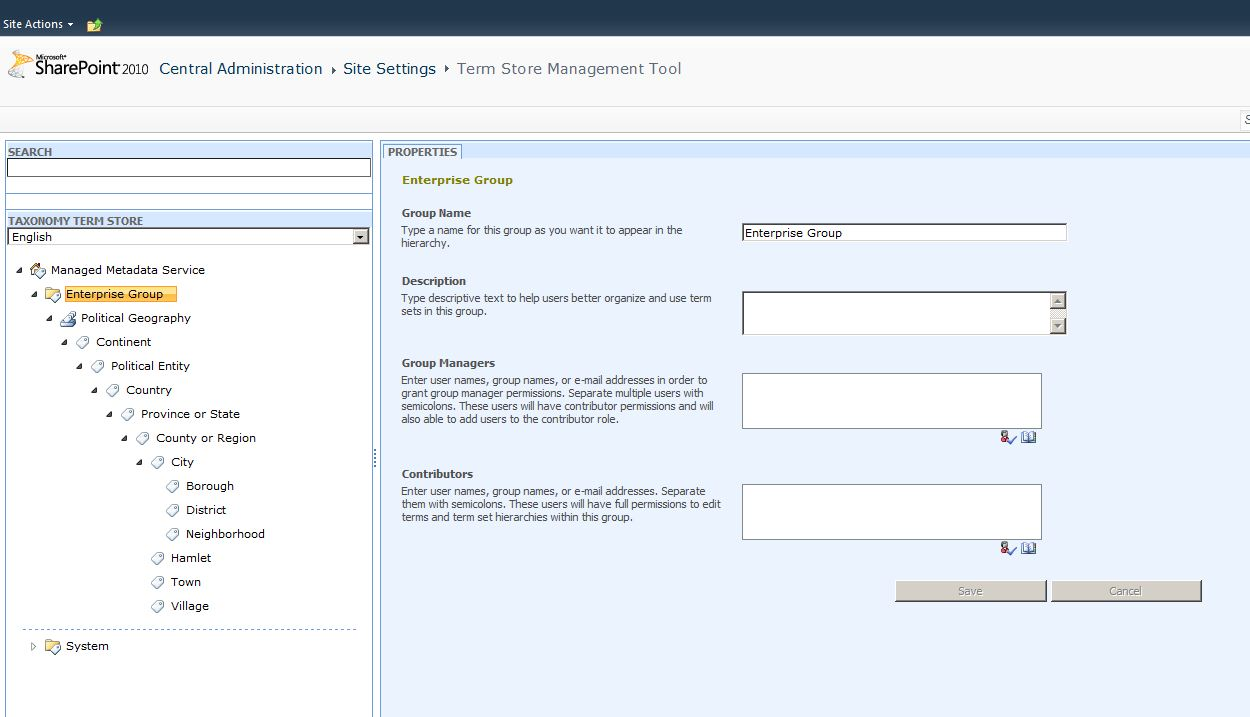 Manually creating a term set
To manually create a term set, click on the group and select "new term set". From there you see the cursor blinking allowing you to type the name of your new term set.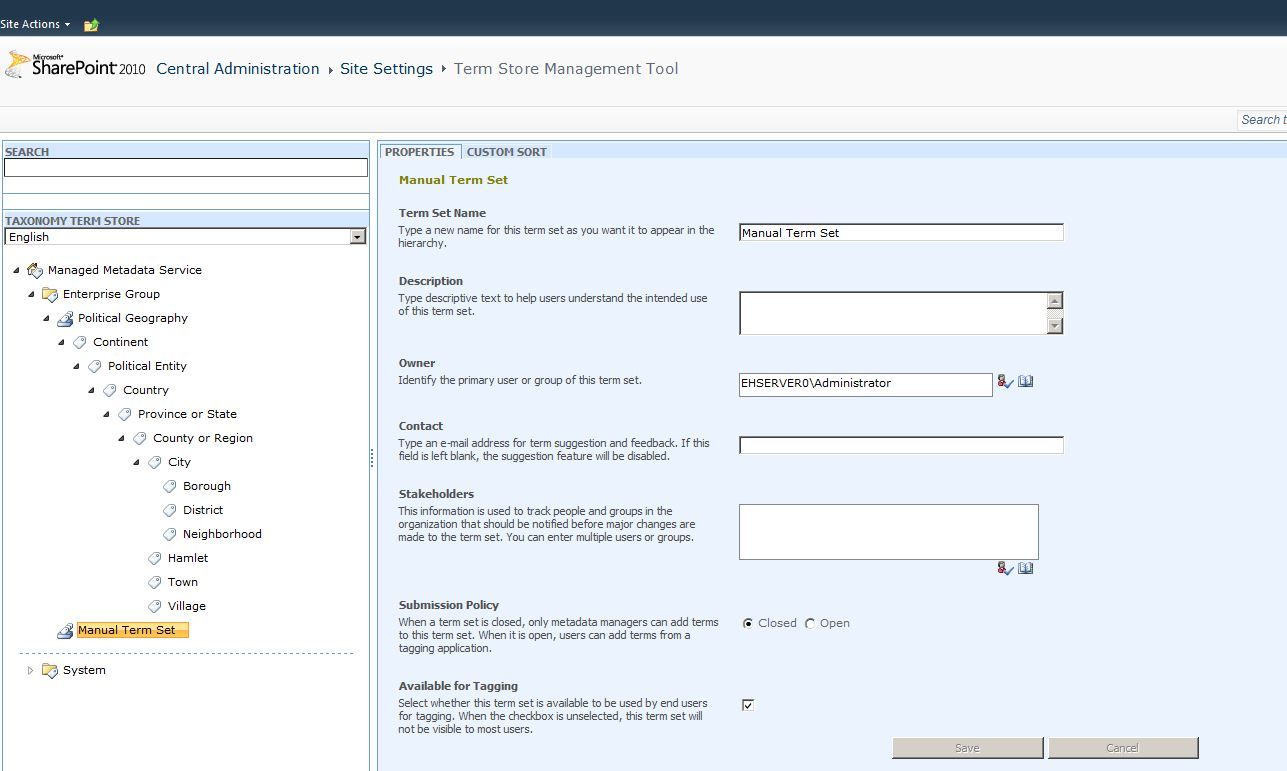 In the right column you do the following:
Revise the name
Add a description
Assign an owner
Add a contact email address which is helpful for enabling users to contact the owner on managing those terms
Add stakeholders which is essentially a group of people who should be notified if major changes are needed or occur
Set the submission policy (this will be discussed later)
Set the term set available for tagging (this will be discussed later)
Properties of a term set
Above I mention you can modify the submission policy. This is a big deal for governance and management that helps smaller organizations operate more efficiently. An open policy allows users to add or type in new terms which can be submitted and reviewed centrally by the term owner. This is a great way to solicit feedback and suggestions on terms. Having a closed term means that your users can only use what is available.
Tagging is one of the best methods for using metadata within a taxonomy. This gives the users the chance to define their content based on some preset terms. Not only does it help with consistency, but provides a good structure to build a stronger, more unified Information Architecture.
The following are additional properties or functions that can be done with a term set:
Create a new term
Copy a term set
Reuse a term set
Move a term set
Delete a term set
I will go into more details about the above list in later blogs, but wanted you to know those options are available at the term set level.
Adding terms
To add a term you can select the term set you want to add the term to and then select "Create Term".

Enter in the name of your new term and press enter. If you have more terms on the same level you can continue to click through until you are finished entering your terms. Once you've added your terms you can then manage their properties. Below is a list of properties that can be modified per term:
| | |
| --- | --- |
| Property Name | Description |
| Available for tagging | Do you want this term to be used in tagging |
| Language | Determine the language this term is displayed in |
| Term Description | Enter a description for the term if needed |
| Default Label | This is the label that will display for that language chosen above |
| Other Labels | You can set other labels such as abbreviations or even languages if necessary for a given term |
| Member of | If the term is being reused in other term sets, you can choose which set is the primary or source term that the others inherit from. |
Until next time:
This first blog was meant to provide a brief overview of the term store and what is available if you were to click through it. Planning your taxonomy and term sets will definitely be a big process, but this information should help. The next one will cover some basic property setups that can be done and what options are available for managing the term sets and terms underneath them. Leave a comment below about your experience with MMS, or any questions you may have about it.