I sure didn't…
First of all, you know by now that I don't do a lot of promoting of services or products nor do I do a lot of reviews. I generally don't say much unless I'm really thrilled with a product or just think it's completely worthless. Well, in this case, I'm very pleasantly surprised by what I found.
So, I've KNOWN about Pluralsight for quite a while now. In fact I've had a trial card in my possession for probably close to a year? "Hardcore Developer Training" Meh.. online training… I've got years of experience, Google, and phone numbers for my friends who know it all. I never gave it much thought. I mean, I don't need to sit through hours of online videos for stuff I mostly know (or think I know).
I knew that Pluralsight had some really smart guys doing their SharePoint content in Andrew Connell and Rob Windsor(and others), but I just didn't have the "need" for '"Hardcore Developer Training" or time to give it any attention. I had work to do!!
Anyway, I found myself with some free time last week (I know, I was shocked too) so I decided to work on my Intro to Client Side Development Workshop I'm doing at the end of October in Las Vegas. One topic I have not dove into much is REST in SharePoint 2013 and I wanted a good JavaScript example of it. I couldn't really find any good examples online. Then I remember reading in one of AC's blog posts that Rob Windsor had a course on Pluralsight for CSOM and REST in SharePoint 2013. Then I remembered that I had that trial card for Pluralsight just gathering dust.
One thing lead to another.. bada bing… bada boom.. yada yada yada.. and I signed up for an account on Pluralsight.
My experience went something like this…
"Wow, Rob's course is over 6 hours long. I don't have THAT much free time today."
"Oh look, they broke it up into sections so I can skip to what I need"
"Oh look, Rob broke up the sections even further but managed code and JavaScript"
"Nice! I can skip directly to what I'm looking for"
"Rob really likes his Visual Studio."
"Wow.. very cool.. this is exactly what I needed, Rob knows his stuff, now I have the tools to go and work on that part of my workshop. The content and demo really answered my questions."
"Hmmmm.. I wonder what else I can find on Pluralsight"
"Hey.. there's a whole section on jQuery"
"Elijah Manor.. I've heard of that guy"
"Wow, that's a pretty cool tip. something to keep in my back pocket. Oh that's cool.. neat.. another tip.. oh, that's why that happens… "
*light bulb*
"SO MUCH STUFF! How come I didn't know about this sooner!?!?!?"
Now I get it.
Pluralsight is NOT just "Hardcore Developer Training". It's much better than that IMHO. Pluralsight is a tremendous resource when you have 30 minutes to kill between meetings or when you need to see an example of how to do something in a particular technology and you don't want to spend minutes our hours reading lots of bad blog posts on the subject. It's perfect when you want to sharpen your existing developer skills or even lift the veil of other technologies.
For me, when I have a technology question, I'm going to first go there and see what the real experts have to say on the subject. There is a growing problem with a LOT of bad information in blogs out there. Lots of bad examples with bad practices. Granted, I'm not familiar with all the presenters for the other subjects, but I know for a fact I can trust what the SharePoint authors are saying and if the authors for the other technologies are of the same caliber, then I'm not concerned.
Just look at all the technologies they have courses on: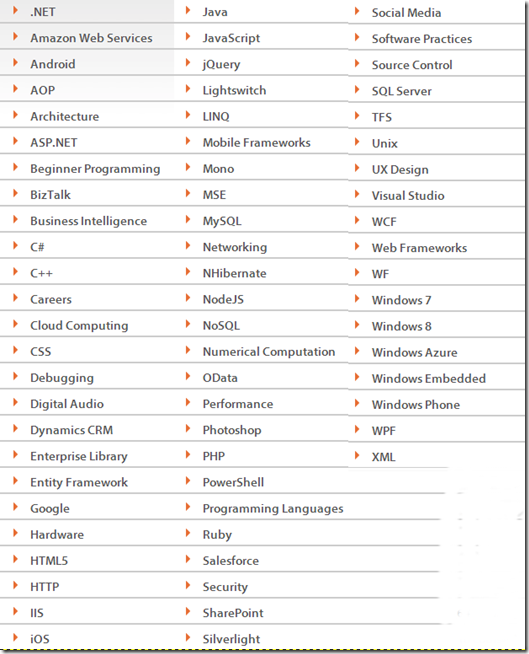 Yeah, but how much does it cost?
So, the cost of a subscription to PluralSight starts at $29 a month.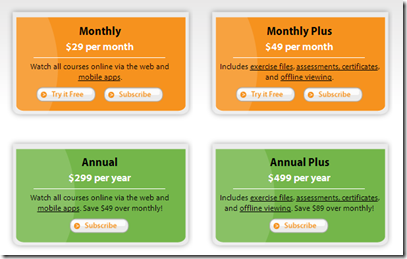 You are telling me I can get access to ALL the courses for ALL the technologies as often as I 'd like for $29 a month? Yes, that's exactly what I'm saying.
That's a freaking bargain.
Don't believe me? Go sign up for a trial and give it a shot yourself. Better yet, do you have one nagging question about a technology that you need answered? Sign up for a trial and just see if Pluralsight has it? Again, I mostly looked at the SharePoint and jQuery content, but if the others are of the same caliber you will be surprised.
No… I'm not getting paid to say this. Although, I hope maybe to have some content worthy of being put up there some day. we'll see.
What about workshops and hands on training?
So, the big question, will Pluralsight replace workshops and classroom training? In my opinion, there is no replacement for hands on training and being able to raise your hand an ask a question. Plus some people aren't capable of online learning. I get that. But if you've got the discipline and the desire to learn, I really can't think of a better or more cost effective way to get "just show me how to do it" training on a specific topic. Can you?
I'm actually thinking about forcing my son to sit through some of the introduction to development courses and see what he can do with it. If it succeeds or fails I'll let you guys know!
In the meantime, I hope you are doing SOMETHING to keep up with technology and to sharpen those skills. Would love to hear your tips and tricks for staying on top of that mountain of information.