We're excited to be speaking and exhibiting at SPTechCon this coming February. "SPTechCon Austin will feature the first conference sessions on SharePoint 2016, the next release of SharePoint expected early next year! We will also bring you more on working with SharePoint 2013 and Office 365, with practical information you can put to use on the job right away!"
[su_row][su_column size="1/2"]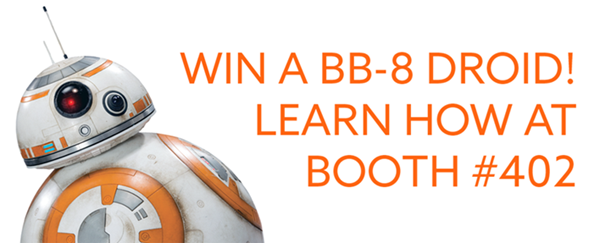 [/su_column] [su_column size="1/2"]
Between sessions, come visit us at Booth #402 to learn more about how we can help you make the most of your SharePoint, Office 365, and Nintex investments. While you're there, be sure to leave your business card or contact info for a chance to win your very own BB-8 droid that responds to voice commands and can be controlled by your mobile device. [/su_column][/su_row]
Join Ben Curry at these sessions:
Monday, February 22nd - 8:30am - 9:45am
SharePoint Farm Architecture and Performance: Testing on 2013 and Planning for 2016
This class provides a thoughtful approach to designing your SharePoint Server 2013 server farm and gives you confidence that you are heading in the right direction. Learn how to architect for performance, and get a live demonstration of performance testing tools! Get tips and tricks for
pre-planning for the next version of SharePoint Server and what you can do now to make the transition easier.
Monday, February 22nd - 4:00-5:15pm
SharePoint Hybrid: The Sure Path Forward
This class will help you create a clear and accurate Office 365 Hybrid roadmap. We'll discuss SPO and how to configure a hybrid Office 365 environment with your on-premises SharePoint Server. You'll be introduced to the challenges of hybrid, relevant requirements, and design points needed for a successful hybrid project, logical architecture design (to include hybrid search and e-Discovery), DNS, security, and Identity Management. This class isn't for the faint of heart, but if you are looking for a "red pill" class - you've found the right place.
Tuesday, February 23rd - 3:45pm - 5:00pm
The Future of Microsoft Search is Here! Cloud SSA (Search Service Application)
We now have the capability to index our on-premises content sources from our Office 365 Search application! This session will introduce you to the concept of hybrid crawling, how the Cloud SSA benefits your hybrid implementation, and a technical deep dive on how you'll implement. You'll see live demonstrations of configuring with numerous insights you can only get from the field. We'll also present a real-world case study.
[su_button url="http://www.sptechcon.com/" target="blank" style="flat" background="#a21d21" size="5" center="yes" icon="icon: hand-o-right"]Register Now[/su_button]
[su_quote cite="SPTechCon" url="http://www.SPTechCon.com"]"SPTechCon offers classes and tutorials for IT professionals, business decision makers, information workers, project managers, and developers. Each presenter at the conference will be a true SharePoint expert, with many drawn from Microsoft's tech teams or from outside authorities with Microsoft MVP status." [/su_quote]
[su_youtube_advanced url="http://youtube.com/watch?v=-1Y2WfcCb4M"]
[su_row][su_column size="1/2"]
[su_service title="Learn the 5 C's of Upgrading SharePoint" icon="icon: file-text-o" size="30"]Upgrading SharePoint, is a long, detailed (and sometimes costly) process. Learn what to do before you start.[/su_service]
[su_button url="http://summit7systems.com/white-paper-the-5-cs-of-upgrading-sharepoint/" background="#a21d21" style="flat" icon="icon: arrow-down" size="6"]Download White Paper[/su_button][/su_column]
[su_column size="1/2"][su_service title="Plan for the E5 Transition" icon="icon: file-text-o" size="30"]Learn about the significant changes to Microsoft's Office 365 licensing: the introduction of the Enterprise E5 suite.[/su_service]
[su_button url="http://summit7systems.com/white-paper-planning-for-the-e5-transition/" background="#a21d21" style="flat" icon="icon: arrow-down" size="6"]Download White Paper[/su_button][/su_column][/su_row]