Cloud computing is such a valuable solution that some organizations may be so eager to start using the service that they overlook the long-term planning process. The technology is not going anywhere, so there is no need to rush any deployment. Corporate decision-makers should find an affordable and functional product that supports the unique needs of their employers, not just select the least expensive suite on the market.
Simply going with the most cost-effective cloud environment may result in inefficiencies and prolonged adoption. Or businesses may experience what all firms want to avoid: security breaches. If the hosted cloud suite is not backed by the latest IT safeguards, brands may expose sensitive consumer information, with the end result being two-fold. On one hand, companies will face severe compliance fines for not protecting this data. On the other, the PR team will have to work overtime to minimize the damage and keep loyal customers from jumping ship.
Decision-makers are aware of certain risks
As the IT industry is constantly evolving, executives must always have an eye out for tomorrow to make sure their employers are prepared for the opportunities and risks that lie ahead. A new Gartner survey of CEOs and senior executives discovered 37 percent of participants will make customer engagement management a top investment in the next five years, followed by 32 percent and 28 percent who said the same regarding digital marketing and analytics, respectively.
"Successful cloud migrations require long-term planning."
Cloud computing and the Internet of Things also received recognition for being important IT solutions moving forward. However, 77 percent of respondents agreed that the digital landscape is creating new risks, while 65 percent feel their risk management policies are not keeping pace with these challenges.
"Although this was a partly prompted finding, we also saw strong evidence of this rising concern elsewhere in the responses," said Mark Raskino, vice president and fellow at Gartner. "CEOs are right to be concerned. As products and services become digital they add far greater utility for the customer but also far greater power for those dark forces who might usurp digital control. CEOs and CIOs should collaborate to jolt the executive team out of cyber-risk complacency."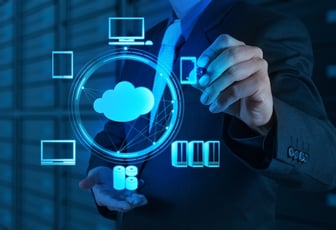 Avoid prolonged deployments and adoption challenges
In addition to managing any risks associated with cloud computing, stakeholders should do all they can to avoid extended deployments. CDW polled more than 1,200 executives and discovered 59 percent said complexities are keeping their businesses from leveraging cloud solutions for broader uses.
Experience with cloud adoptions is critical, not just for initial deployments, but for future ones as well. CDW revealed businesses spent an average of 14 weeks to complete their initial implementation, while subsequent projects required 10 weeks. Additionally, more than half of respondents said their organizations can now complete cloud migrations in six weeks or less.
Support from third-party vendors can greatly change the success of any cloud implementation. Service providers are available to assist before, during and after cloud projects are completed. For firms that have yet to use the technology on a wide scale, partnering with these businesses is a smart decision.
When comparing available vendors on the market, 43 percent of the CDW participants said service reliability is the most important factor, while lower costs were second.
Summit 7 Systems takes a long-term approach to helping clients adopt cloud computing, providing thorough assessments, operations support and migrations. With Summit 7 Systems, customers will receive personalized assistance that reflects their unique operational needs and industry requirements to maximize their use and investments in cloud suites.
Learn more about Summit 7 Systems' approach to cloud deployments today.