If you are reading this, I hope you have at least seen SharePoint 2013 or Office 365. If not, what are you waiting on, grab a sneak peak of SharePoint Online here. While the new version has some nice features, there are some "gotchas" or "wish I would have known that" moments that keeps many of us using the platform but hating it at times.
Sound like you? Well, to save you time and keep you from being frustrated, I will share something I heard some users stumble over and show you how to keep from doing that yourself.
User Question: Why are some of the options disabled or grayed out in the advanced tab for a web part in SharePoint 2013 or Office 365? (See image below)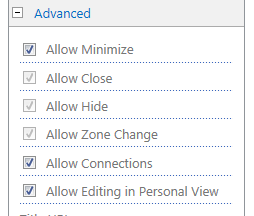 Conspiracy Theory:
SharePoint doesn't like you and sometimes will hide or disable things so you have to work extra hard to do your job. This helps you appreciate the times when SharePoint works well and does exactly what you expect. Just kidding, really!
Unfortunate Reality:
SharePoint is actually doing or working as it should. Wait, NO WAY!
Short answer to user's question:
You are more than likely using a wiki page and those options are not available on a wiki page.
Long Answer to User's Question with Explanation:
SharePoint is a platform that works based on a set of content types. I wrote another blog called SharePoint Site Columns and Content Types. It walks through a lot of this design and how they all like to play together. This is one of those instances.
When you encounter the disabled error you are seeing it because the page you may be interacting with or desiring to edit on has a set of rules/functions that it can and cannot allow. If you are wanting to change the options so you can uncheck the, "Allow close, allow hide, and allow zone change" you will need to be on a web part page. Otherwise you cannot modify those settings on a wiki page.
Types of pages.
There are numerous styles of pages, but the basic content types are Wiki Pages, Web Part Pages, and Publishing Pages. While most users understand the structure of the web part page because of its history with previous versions of SharePoint, there are some new challenges with Wiki Pages specifically that many users simply don't know. Publishing pages are an entirely different species that you shouldn't use unless you are designing and building publishing sites for catalogs, intranets, etc. This example will show a small gotcha based on just the Wiki and Web Part page.
Web Part Page: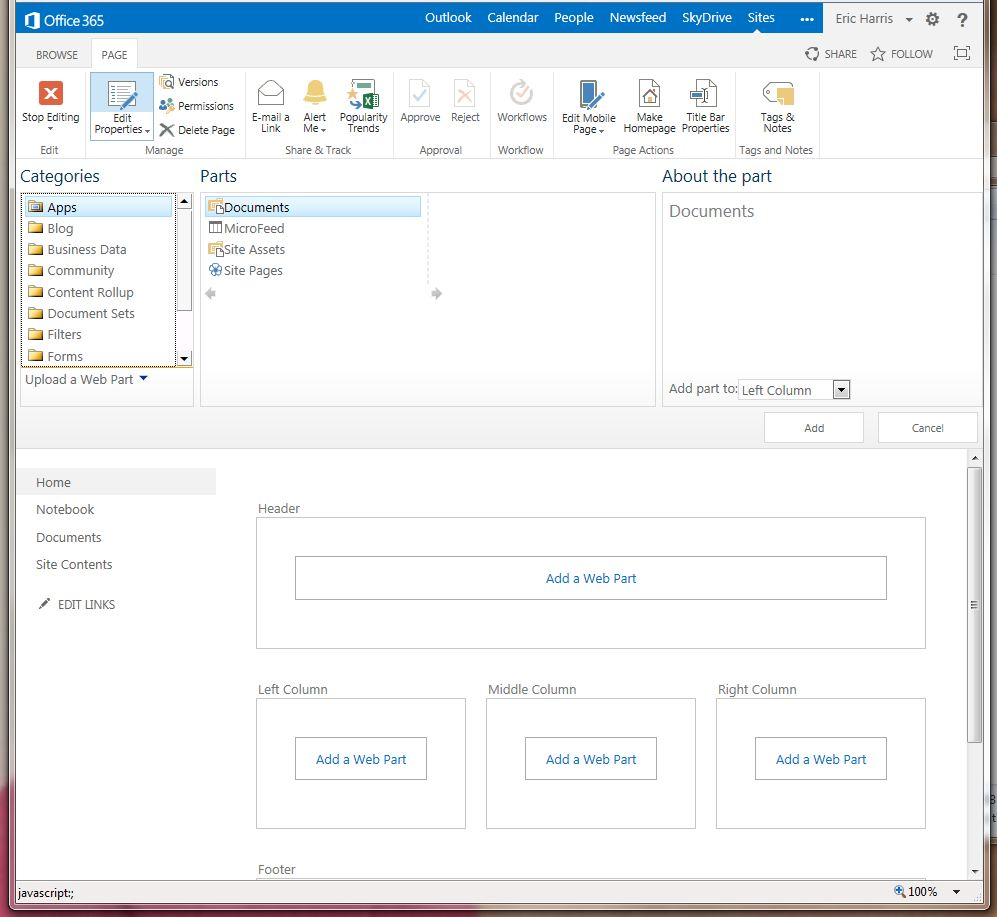 Modifying web part properties on a web part page gives you all the functions because they all apply. Web part pages have zones so you can move a web part around to different zones, and you can store history of those pages (versions) which means you can modify personal settings on a page which gives you the ability to close/hide a web part.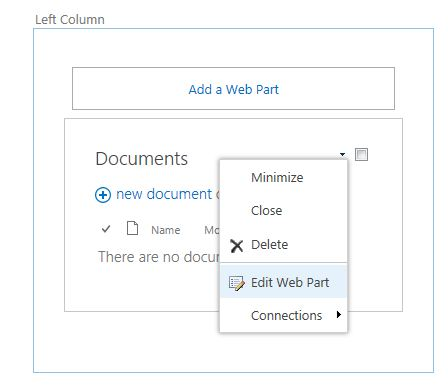 When adding a web part to a Web Part Page you will see the zones and all options under advanced. You can modify these as you like and save them to that web part. See the pretty image below.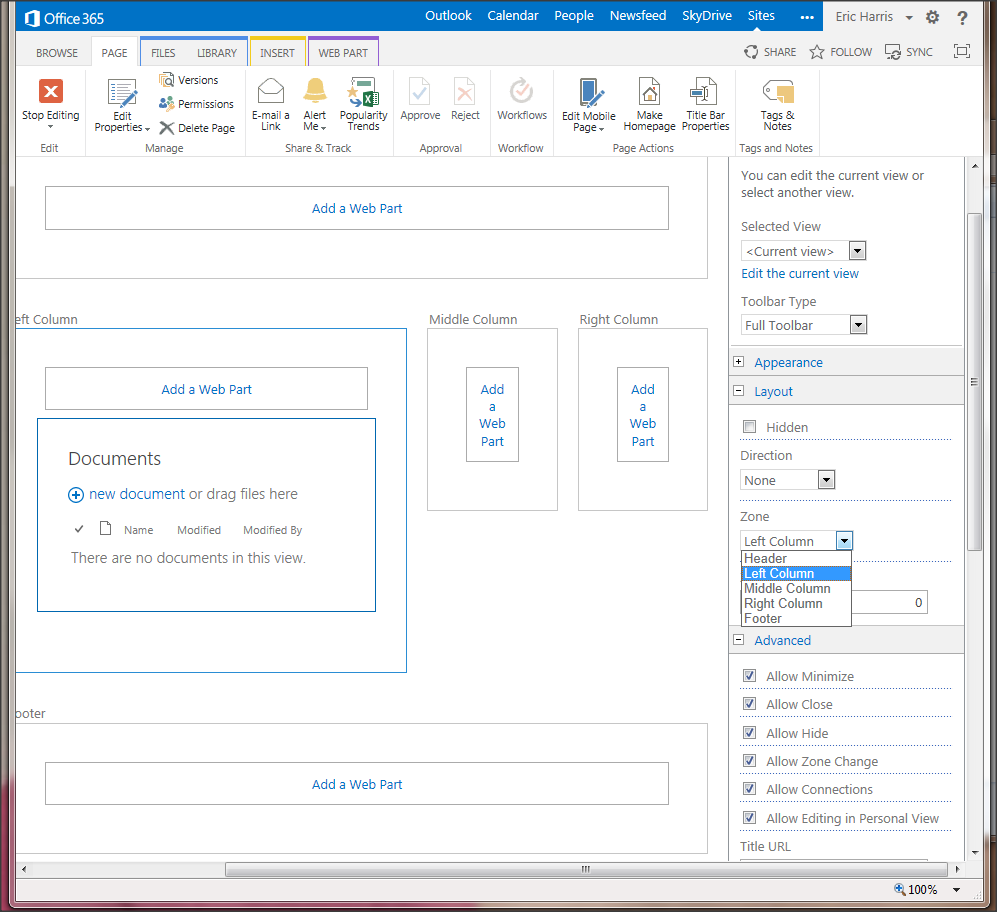 Wiki Pages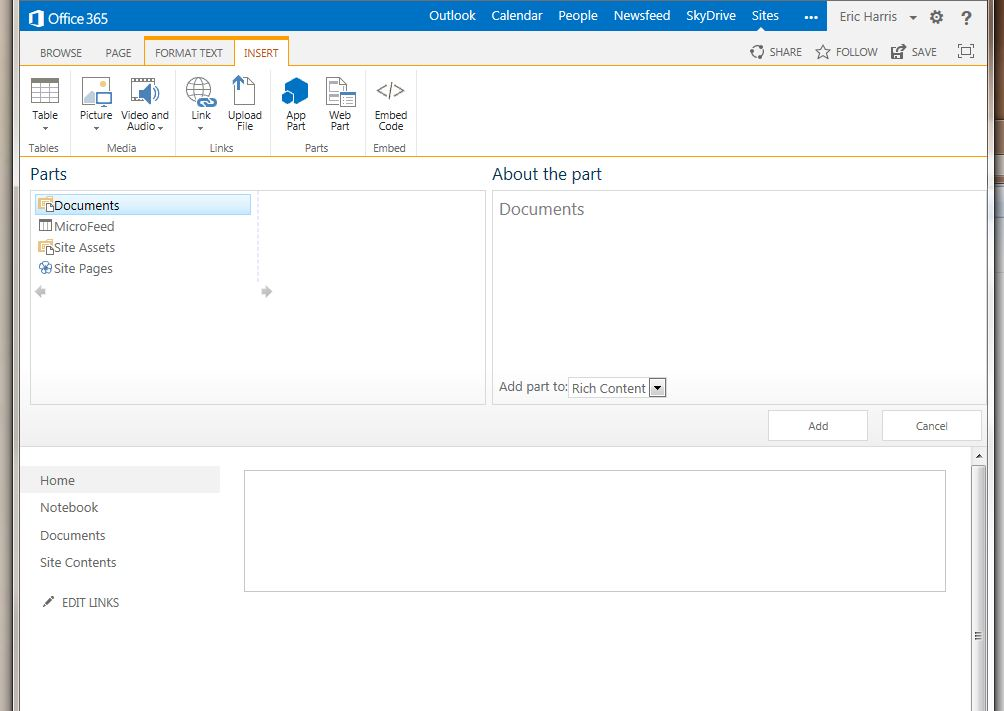 Modifying wiki pages for inserting web parts give you a different set of options. Wiki's do not have zones. The text areas are rich text and do some translations to the HTML which can be very frustrating, if you don't know what you're doing.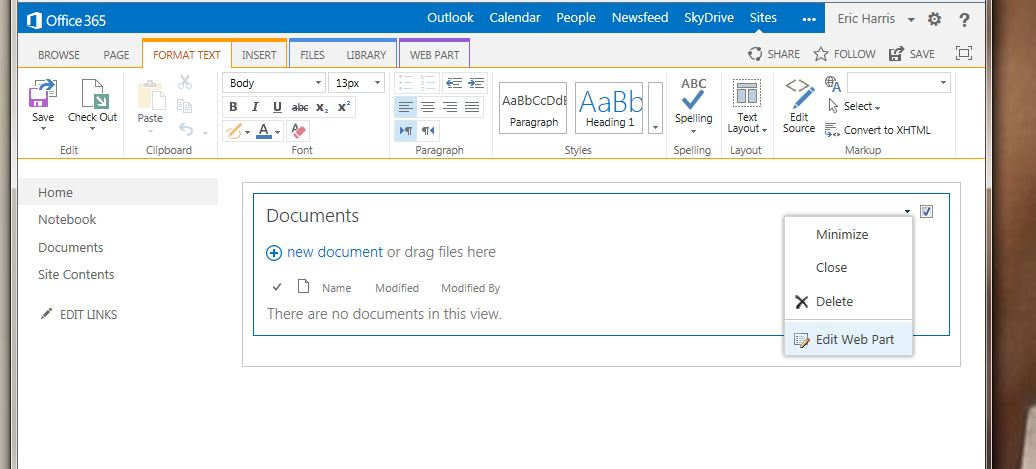 Quick Tip 1: You may notice the Insert tab and the Web Part tab in the Ribbon on a wiki page. This is not a mistake and your eyes aren't tricking you. On wiki pages you can insert an App Part and a Web Part. Though they are generally the same, there are apps that are not web parts, and vice versa.
Click on the Web Part tab. This provide a list of apps (list/libraries) that you can add to the page based on what you have already created on your site.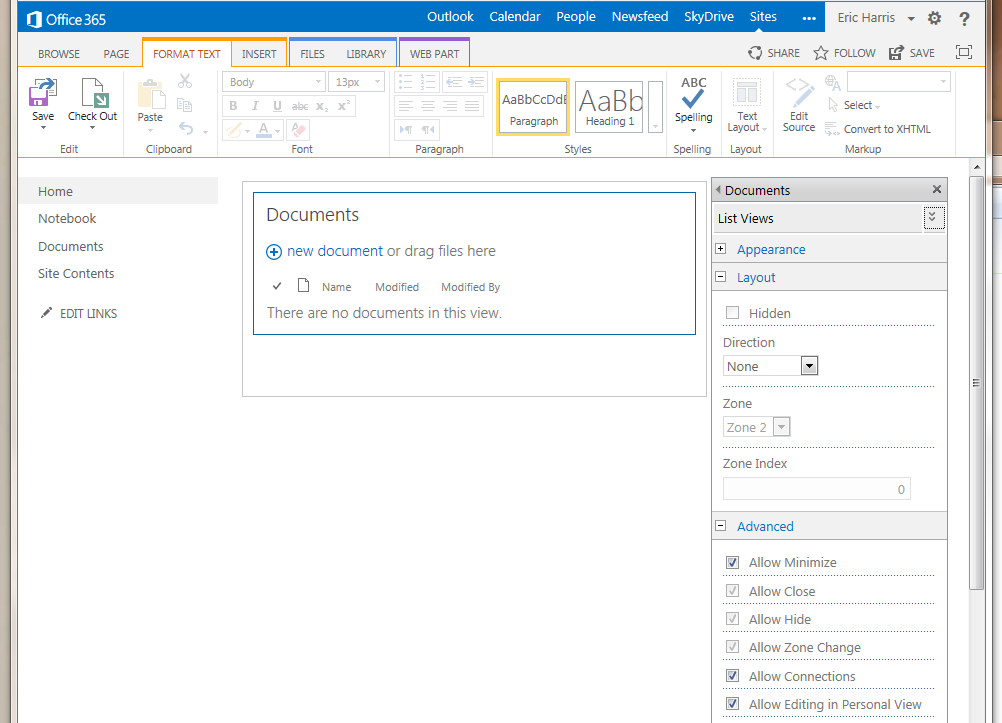 When you access the properties of a web part on a wiki page, you will see the options displayed above. Don't rush through this though, because if you look closely you see that "Allow Zone Change, Allow Close, and Allow Hide" is disabled. Now that's just odd right? Remember the Wiki page has a completely different role and therefore some functionality is changed or limited for Web Parts.
Quick Tip 2: You cannot select a web part and move it from Wiki Zone or area to another area. You have to delete the web part in one zone and then re-insert that web part into the desired zone.
Summary
While this may help you figure out why you could or couldn't do something to a web part, hopefully it will help you better structure your solution to meet both current and future needs. There have been plenty of times where I disabled the Wiki Home Page feature and created my own Web Part home page. I like web part pages a lot, but I can say there are some benefits to using Wiki Pages. The point of it all is to use the correct page for your needs and if you see something odd, blame SharePoint first, then contact someone for help.
Free Tip: Shoot me an email