Top Down/Bottom Up…Balanced Scorecard…BPM…ECM…Information Architecture…SLA…Start Big/Start Small…Thought Leadership…Back Office Integration…BCSP...Case Management...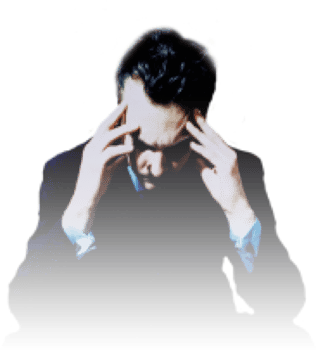 What are all of you SharePoint "business consultants" rambling about? You are making my head hurt…and now I am considering if I should change careers!
We have heard the buzzwords and maybe we've even been guilty of overusing them at times. Over the next few months, I'm going to try and help you cut through the smokescreen and get to the bare metal of SharePoint platform strategy. For most of you, if not all, a successful SharePoint platform strategy will be aligned with the business. Yes – I used those buzzwords aligned with the business – because it's just the best way to SharePoint success. So, a little background first…
For years, Bill English and I have talked at conferences and wrote books and articles on the importance of business alignment and platform strategy. While most believed us and understood it was important, many missed the point of what it meant to truly align SharePoint with business. It was still about the technology. At times, I was still wrapped up in the technology– after all, I spent years in the NASA datacenter…it was inevitable.
So, I've been off the blog radar for a while – I started Summit 7 Systems with Scott Edwards, spent some time with the kids, barely lowered my golf handicap, but most germane to this conversation – we have been refining how to implement SharePoint that works. SharePoint that has realistic goals, SharePoint that has limited chaos designed from the beginning – with a plan to manage content and related processes over the long-haul.
At Summit 7 Systems, we start most strategy conversations with two questions:
Is SharePoint directly supporting corporate strategy?
Is SharePoint a business critical platform?
If the answer is NO to both questions, then you will struggle to get executive ($$$) buy-in. Now, don't get me wrong, SharePoint is a great mid-range collaboration tool. It is good for front office functions and processes, great for document management, search and WCM. However, you will most likely not get the level of funding SharePoint pros desire until it becomes either integral to the daily back office operations and/or is key to an organizational strategy.
Once we understand where SharePoint fits in the organization's technology landscape, we can begin to find where support comes for the project. There are two basic metrics to begin with:
Is this either "Top-Down" (executive, i.e. CxO, EVP) or is it driven from the "Bottom-Up" (business users, line managers, IT managers)?
Will you start your project small or will you start your project large?
A top-down approach means to have executive stakeholder support – somebody is in charge of the platform and is willing to spend money on one or more functional areas of SharePoint. Generally, large projects that fail do not have executive support, however, the other camp (no pun intended) is all about the user. While the usability of the system is most certainly important, users do not have adequate insight into the strategic initiatives of the organization to make all the rules. Consider the following graphic. Where is your current SharePoint project? Do you know?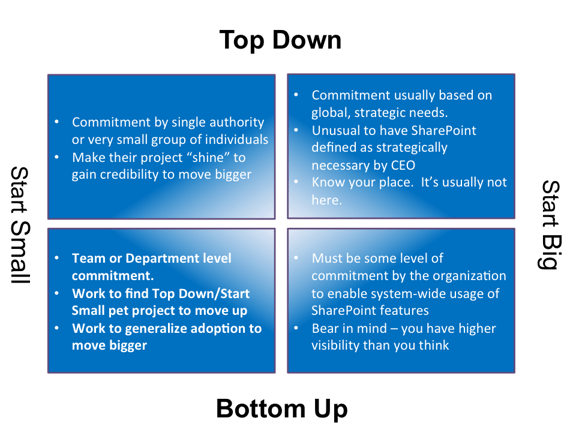 The truth to platform success is somewhere in the middle – somewhere between being all about the executive and SharePoint being all about the end user.
What do you do next?
Define Success!
Measure success
Engineer for those who care
Align with a strategic initiative
Expand executive support through technology re-use
Quickly identify Point vs. Enterprise Solution
Communicate, Communicate, Communicate!
Practice good Change Management (Awareness->Desire->Knowledge->Ability->Retention)
I will be posting several articles over the next few months beginning with "Why is a SharePoint Strategy important? Do I need a roadmap?". This one is almost penned…so stay tuned. I want to say THANKS! to the attendees at my all day workshop at SPTechCon in Boston in last weekend – great questions and discussion.
If you are interested in SharePoint strategy, check out one of my upcoming sessions:
NYC SharePoint Saturday Keynote July 28th, SharePoint as a business critical technology platform
SharePoint Re-Design and Adoption Seminar in D.C., August 9th
I hope to see you soon!
Ben