It's that time of the year again. When young and old, rich and poor, sports fans and office mates come together to pit their favorite picks against one another in the March Madness tournament. We all know the drill, print out your bracket, fill it out, and cross your fingers you're the winner.
But what if you wanted to know your rank half way through the tournament? What if you want to see your points by round without having to do all the math? What if you could get all your information in one place?
All these questions can be answered with Microsoft Power BI.
This year, our team took on the immense task of creating a unique bracket solution using what tools we had at our finger tips. As the project grew, there came the question of analytics. Power BI was the first thing to come to my mind. I had been playing around with it for quite some time, and this was the perfect opportunity to show off what it can do. I immediately put the idea on the table, and Power BI was added to our starting line up!
Power BI is a data visualization tool that gives the user the abilities of Power Pivot, Power Query, and data visualizations all in one place. It was designed so that a user doesn't have to be overly technical to create stunning reports. All it takes is the data you are wanting to use, and a connection to that data. Power BI offers multiple ways to connect to any type of data. From a simple Excel spreadsheet to a SharePoint list, to an Azure SQL Server or an external data tool, like Google Analytics.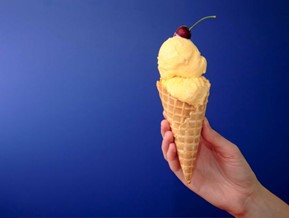 Power BI comes in two flavors: Power BI Desktop (PBD) and Power BI for Office 365. The best way to get the most out of the tool, just like a double scoop cone, is to put them together. PBD gives you the ability to control relationships with your tables, use Power Query to manipulate your data, and connect to a few more data sources that aren't yet available in O365.
However, Power BI O365 gives you the ability to collaborate with your fellow coworkers by sharing dashboards and reports, along with giving users access to online content packs from third party sources (as mentioned above), and the ability to view your dashboards on the go using the Power BI app. So the secret sauce to a great Power BI experience: Develop a foundational dataset in PBD, publish it up to Power BI O365, and then create spectacular reports and dashboards.
As for our Conquer Your Bracket tournament contest, I wanted to give the users a data experience with their bracket submission. My goal was to show a leaderboard, individual user's information, and a visualization to show our outreach impact. Power BI made is all possible.
Stay tuned for my next blog post describing my report for our Conquer Your Bracket contest, and get in-depth details about each part of my report and how I made it happen!
Stay Classy,
Kendall Rader