The global cloud computing market is thriving not just because so many organizations are using the technology or are considering adopting the cloud, but because the IT industry's best and brightest brands are pushing the service's boundaries on a yearly basis. Amazon and Microsoft in particular have established themselves as the de facto leaders in this burgeoning space.
A new Synergy Research Group report indicated Amazon Web Services (AWS) dominated the infrastructure market in 2014, accounting for 28 percent of the industry, which included Infrastructure-as-a-Service, Platform-as-a-Service, private and hybrid clouds. Microsoft was next with 10 percent of the share, followed by IBM with 7 percent, Google at 5 percent, Salesforce with 4 percent and Rackspace 3 percent.
Show vendors the money
Amazon in particular enjoyed a healthy 2014, not only in terms of adoption of its cloud suites, but also regarding revenue. Synergy found Amazon Web Services earnings increased 25 percent between the third quarter of 2014 and the fourth quarter.
"Amazon and Microsoft are the de facto leaders in the cloud market."
Overall quarterly revenue for Q4 2014 approached $5 billion, the research firm said. Yearly earning exceeded $16 billion, up 48 percent from 2013.
John Dinsdale, chief analyst and research director at Synergy, said the global cloud industry is going strong, especially as current adoption barriers fall and perceived challenges fade.
"The momentum that has been built up at AWS and Microsoft is particularly impressive. They have an ever-broadening portfolio of services and they are also benefiting from a slowdown in the super-aggressive price competition that was a feature of the first half of 2014," Dinsdale explained.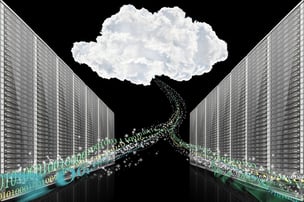 Hybrid cloud computing figures to dominate 2015
Organizations still on the fence whether or not they should adopt cloud computing do not have to migrate all of their applications to cloud environments. Hybrid models enable companies to host some apps on-site and others in the cloud, blending the best of both worlds.
Red Hat surveyed various IT professionals and some of its own executives to gain insight into the burgeoning hybrid market. Mark Coggin, senior director of product marketing at Red Hat, said the very meaning of the word "hybrid" will evolve in 2015, including resources ranging from IaaS, PaaS, Software-as-a-Service, on-site, physical and virtual assets.
Ashesh Badani, vice president and general manager of OpenShift, believes interest in and adoption in cloud computing will intensify in 2015.
"There is a lot of interest in public cloud accompanied by concern across the world regarding privacy, and security and regulatory issues, continuing to bolster hybrid clouds," Badani added.
Marco Bill-Peter, vice president of customer experience and engagement at Red Hat, explained enterprises are likely to stop relying so much on public clouds in favor of hybrid environments. Bill-Peter indicated public models are effective at scaling, but they are fraught with outages and performance challenges. Hybrid suites are better options on two fronts - logically and technically.
With competition among leading cloud vendors becoming even more fierce in terms of pricing models, as well as interest in hybrid models reaching new highs, the global cloud industry is poised for perhaps even more impressive growth than the technology is projected for.