Over the next year, Amy, Jason and I will burst out of our design and development comfort zones (probably). For the first time, we're going mobile, and if/when we do, all sixteen of Kentucky's community colleges are coming with us.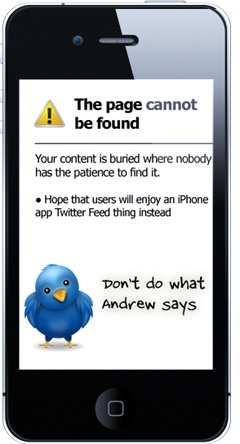 When the college web sites launched three years ago – before my time – they were, and remain, Information Architectural tours-de-force. Underpinned by extensive user research and expertise, this was a huge and hugely successful implementation. Students liked the results, faculty liked the results; the web sites work.
The solid evidence base on which these sites' IAs were constructed surely muted many protests. To be findable, library opening hours do not need a flashing "click here" button on the homepage, it turns out. Remarkably, students will find Financial Aid information perfectly well without an animated rainbow-colored piggy bank bouncing off the sides of the screen.
At their core, the navigation components are built to both reflect and facilitate the ways in which users actually interface with and value information, which does not often map onto what insiders "know" about how things "should" be. Students might not know what a registrar is, but they know that an 8AM clinical phlebotomy lab sounds like a blast, if only they could locate the class schedule... In other words, users have specific tasks in mind, and admiring graphical and verbal embellishment are rarely among them.
As we go mobile, we need another unlearning of what we "know" and an evidence-based relearning of what works.
This time we don't have tailored user market research, we don't have outside experts, and we're not subcontracting any aspect of our mobile project. And the world's best project manager is not on our team. We need to be creative and resourceful, which means we need to harness and harvest (to mix some timely agricultural and equine metaphors as the sun shines on Keeneland's 75th fall meeting celebration) whatever tools are available to us to make our mobile sites aesthetically beautiful and structurally solid.
But we also need, I would argue, a "show" to counter what we and others "know" about IA. Because a lot of people know a lot about IA. They know what our users are really looking for. They know that we should probably replace our student sites, the accumulated works of college Web Services professionals and departmental content owners, with a Twitter feed (true story). They know that the web is passé, traffic is down, and iPhone apps are, like, totally where it's at (true story). Dude, what about an iPhone app that provides up-to-the-minute, 140-character Tweets on #FederalFinancialAidRegulationsAsApplicableToPellGrant-EligibleStudents? But could they present evidence to show any of these trends? No. But Google Analytics can. Or, rather, it could, but it would be lying, and non-evil Google doesn't lie..
For mobile IA development, Google Analytics and its accumulated two-year System-wide set of visitor data, is a God-send.
Analytics can tell us what our users really are looking for. It can tell us if traffic is faltering, if everyone has an iPhone, and if our current student content is a waste of precious virtualrealestate.
Analytics gives a lot of really interesting answers. It gives a lot of answers, period, some of which may even be useful, actionable answers – provided we ask the right questions. They are only useful if we can then operationalize their implications for IA in a meaningful way.
So over the coming months, I will blog about what Google Analytics can tell us, and can't, how we do using those data to develop parsimoniously beautiful IAs for our colleges' mobile presences. Then (or rather, simultaneously) come design, branding, and content.
First up: mobile apps or mobile versions? What we know, and, more usefully, what Google Analytics shows...