During SPC14, Microsoft announced a more modernized insights function codenamed Oslo. This can be perceived as Microsoft's response to social insights that many of us are accustomed to seeing on Facebook and Google+.
Most users tend to get online, search for what they need, find it or something close to it and be on their way. What many users don't realize is that their searches are being recorded and the engines are learning as they search. A startling truth that many of us already know is that there is still a major disconnect from that world and our everyday jobs. When we enter our workplace things are segregated, disparate and just plain disconnected.
As we search within the social confines of the internet, Bing, Google, Yahoo, and other engines, we receive hundreds of ads and information related to something we've typed or searched for. Then there's those related or relevant suggestions to help point us in a direction or help ensure we find what it is they (advertisers) think we need. This suggestive display has become second nature to many of us and yet things at work don't do that for us. So that brings me to an interesting thought...
How effective would this be for work and would this personal touch make us more or less productive?
As a country and workforce, we are already seeing negative trends in productivity, as organizations fight the information age, work-life balance and the desire to get more from less. Kids are more connected than ever and parents are having to keep up with the curve. Not to mention the hundreds of books on Amazon telling us how we can find our Zen, how to power up our brains and how to decrease our multi-tasking efforts. Multi-tasking is being pegged as the curse of being connected, but that's not stopping Microsoft from embracing the connections we already have in an effort to make work less distracting and more rewarding.
So what's this thing called Oslo anyways?
Oslo, developed by a Microsoft team in Oslo, Norway, is based on Microsoft's FAST enterprise search technology which is now baked into SharePoint Server 2013. It uses "content cards" to display information based on items that were shared with a given user.
By connecting to the Office Graph engine, Oslo is capable of viewing the users' calendar, email, Yammer posts and OneDrive documents to surface those trends and displays them on a page in SharePoint. The really neat feature about this is that it has the ability to learn as the users continue to interact with content. This is ideal to help build relationships between people, content and the organizations a whole. Below is a screenshot of what the content cards look like.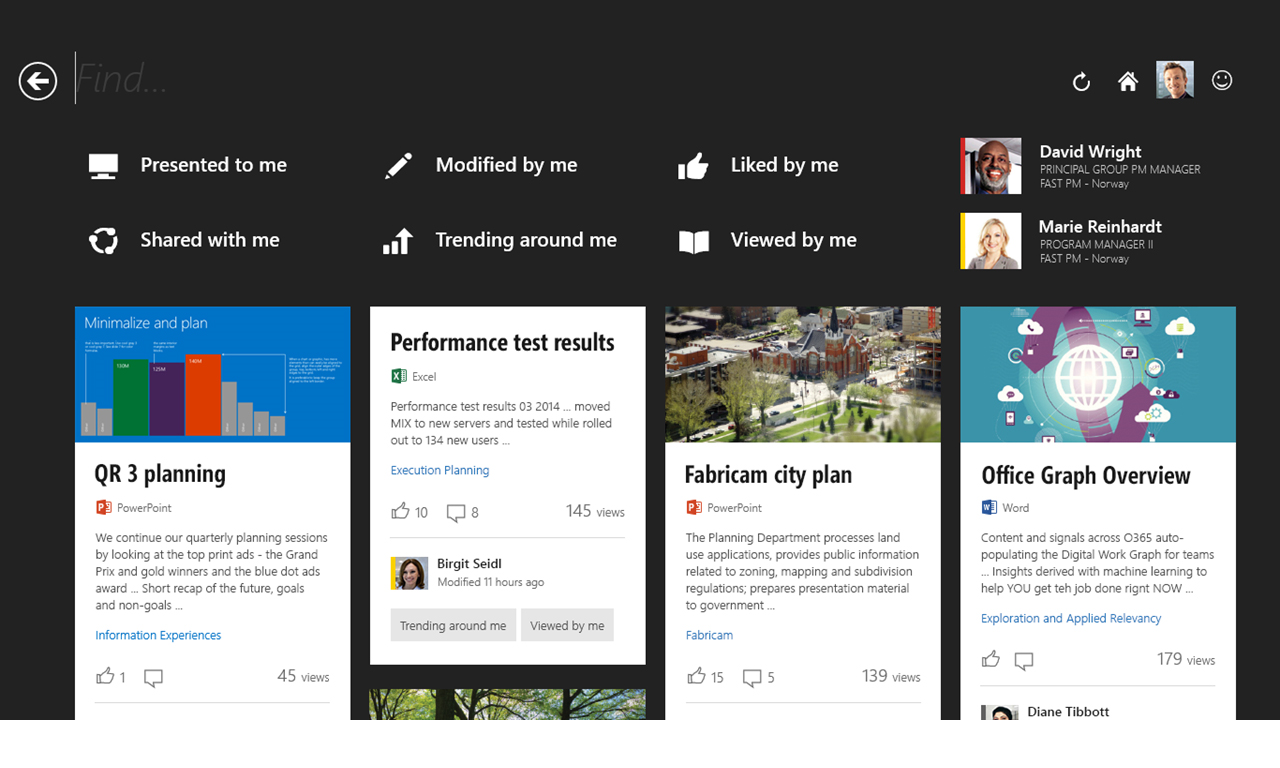 The truth is in the planning
While on one hand, I think it would be absolutely ingenious to find relative content from within an organization based on what you do, what department you work in, or what training document you may be reading. This would save time, speed up self-study/discovery of information and knowledge within an organization and perhaps even save some people's jobs by helping them stay informed and relative to changing times.
However, the opposite is also a concern. Until recently, well more specifically the introduction of managed metadata in SharePoint, many organizations did not (and still don't) adequately tag their information. The understanding of any "-onomy," whether it was taxonomy or folksonomy, was a good thought, but in reality it is more of an afterthought. Therefore, while Oslo may be helpful in surfacing information for what's relevant within an organization for some, it may end up being an utter nightmare for others as they sift and sort through thousands of images, documents and content that is poorly tagged or structured.
For companies that currently have SharePoint and a desire to increase productivity; a product release like Oslo should not be your one-stop solution. Start with the basics of properly tagging documents, adding correct metadata keywords, figure out how to use and enhance search and ensure you actually have enforceable governance policies. In the end, technology doesn't do much but expose the good or the bad that is already there, so help yourselves before the technology shows you just how bad it really is.
Just kidding… but seriously, do the basics and let technology enhance what you do, not try and replace what you haven't done yet.