Earlier this month KMWorld released their "100 Companies That Matter in Knowledge Management" list for 2018, and we are honored to say we are featured for the fifth time. Summit 7 Systems is also listed among companies such as Google, Microsoft, and Nintex in this year's group. Companies chosen are "compiled over the course of the year via input from editors, analysts, experts and, most importantly, users", according to the publication. "It consists of companies that capture our attention for various reasons including functionality, demonstrated success with clients, creativity and innovation."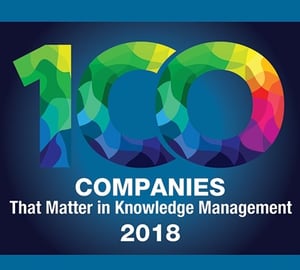 KMWorld
is the leading magazine and website for news and information regarding knowledge management, content management, and document management. Every year they release the Companies That Matter in Knowledge Management list to highlight companies who demonstrate a commitment to solving the toughest challenges in knowledge management and best contribute to the overall community..
"It's a real honor to be selected again. S7 takes a different approach to knowledge management, mainly because of the heavily regulated industries we work in. We have to take into account CUI, CDI, HIPAA, and GDPR when building collaborative solutions." says Ben Curry, Managing Partner of Summit 7 Systems. "We are excited to be a leader in building KM solutions in the Microsoft GCC High environments." When asked what knowledge management means to him, Ben responded "It's more than just wikis and blogs; modern knowledge management is about sharing information between workforce segments, enabling intelligent process modernization, and remaining in compliance with industry and government regulations. Modern KM is about sharing knowledge in spite of the security and compliance controls that rule our data systems. In many ways, we have the 'KM wish list' of 2013 now at our disposal!"
About Summit 7 Systems
Summit 7 Systems (S7S) is a Microsoft Cloud Solution Provider and Microsoft Gold Cloud Productivity Partner headquartered in Huntsville, Alabama, and proud to serve DoD and Federal contractors all over the world. Summit 7 is helping organizations find "a new way work" with cutting edge cloud technologies through thoughtful leadership, technical expertise and compliant platforms. Our methodologies are applied to some of the most intricate governance and compliance requirements around the globe - specializing in Microsoft Azure, Office 365, SharePoint, Exchange, Skype for Business, Microsoft Teams, and Nintex.
After nearly a decade of transforming organizations and their data - the S7S team has completed hundreds of successful projects for clients, from Qatar to Tacoma, WA. This experience and industry leadership has culminated in 8 Microsoft Press book releases by Summit 7 employees and 11 Microsoft MVP awards. S7S is now one of the go-to firms for Security and Compliance related topics in the Microsoft Partner Network, and regularly speaks at Microsoft Government Cloud focused industry events.