Congratulations. You listened to your audience and rallied to give them what they want: a simple, slick mobile optimized web site. But, has anyone noticed? Was it worth it?
Google Analytics is one tool that can help us answer these questions pretty categorically. Our experience implementing mobile optimized web designs for several leading higher education institutions suggests some best practices for benchmarking mobile optimization and measuring mobile engagement.
I want to talk about ME
Mobile engagement, that is. On the web, content is king, but in social media, engagement is key! – or so the new mantra goes.
But a simplistic binary like that is the stuff of blog posts and webinars, not of strategy. I would argue that engagement with content is key not only to reaching a prospective customer but to converting that lead, whatever the online platform. If you want engagement alone, best post a kitteh.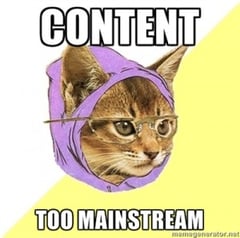 Mobile engagement, in the case of a public facing mobile web site, means:
Visitors do not take one look at the site and immediately bounce elsewhere
The visitor has a good experience and returns
The same principles apply to visitors using "conventional" desktop/laptop browsers, of course. The challenge, though, is that much more pressing in the case of mobile visitors who have limited patience, bandwidth and pixels to bring to the party.
If your site is not optimized for mobile devices, chances are your Google Analytics will show a mobile engagement deficit. Your web site will be:
Frustrating: mobile users will view fewer pages per visit.
Slow: they will spend more time on each page.
Unsatisfying: Fewer will return to your site.
If these are not the case, your site is equally as good (or bad) on mobile devices as on desktop devices and mobile optimization should most likely not be your top priority.
For the colleges we worked with, there was a substantial mobile engagement deficit in effect; mobile visitors found the sites relatively frustrating, slow and unsatisfying. Our strategy was to:
Minimize frustration. Make navigation easy; allow users to find content quickly.
Increase speed: Minimize bandwidth requirements; optimize display elements; make content easy to read.
Increase satisfaction: provide an experience that has users coming back, not scurrying for the exit.
Has anyone noticed?
This is relatively easy to answer with reference to overall visitor numbers. Using the example of one community college whose mobile solution we launched this spring, overall monthly traffic is up about 10% year-on-year, but it is up more than 50% among mobile visitors.
Mobile traffic is increasing, which would probably have happened with or without a mobile optimized site.
We have a lot of anecdotal evidence that users vastly prefer the new mobile experience, but there is no substitute for hard facts. So…
Was it worth it?
Frustration: reduced. The number of pages per visit increased 39% for mobile users and now even exceeds the pages per visit of desktop users.
Speed: increased. The duration of visits increased 8%, but the number of pages per visit increased by 40%. This is consistent with the minimization of server requests and overall reduction in download sizes associated with the slimline mobile designs. Visitors now view more pages, in less time, on mobile devices than on desktop devices.
Satisfaction: increased. User testing will help us understand the nuances more fully, but the rate of mobile return visitors has increased significantly since the launch of the mobile optimized version. The bounce rate is way down and is now significantly lower for mobile than for desktop users.
It's all about ME, ME, ME
Providing a good mobile experience is absolutely crucial to fostering online engagement. The number of mobile visitors continues to increase across all sectors, and there is no reason to believe that this trend will cease anytime soon.
Patterns of access are changing, and mobile web users often encompass key demographics – particularly younger and lower income groups – that we miss with traditional "desktop"-only web sites or reliance on particular social media platforms. Making content available to these users, on their terms, makes excellent business sense.
One word of caution: if your mobile strategy is based around apps and not mobile optimized versions, think carefully. One third of this college's mobile users have neither Androids nor iPhones. Targeting particular devices necessarily sidelines vast swathes of users and potential users. By insisting that prospective students /customers download an app to receive an adequate mobile experience, you risk further narrowing the field. As this case study illustrates, improving the Mobile Experience, increases Mobile Engagement and Maximizes Effectiveness for all concerned. That's mantra-worthy.