Summit 7 Systems announced that it has been named a Charter Member in, both, the Microsoft Content Services Partner Program and Microsoft 365 Business Applications Partner Program.
Content Services Partner Program
The select group of 23 businesses were chosen out of 60,000+ Microsoft Partners to participate in the Microsoft Content Services Partner Program. Summit 7 Systems is the only partner focused on Aerospace and Defense companies and their unique content management requirements of DFARS 7012, NIST 800-171, ITAR, and newly drafted CMMC. Charter Members are focused on transitioning large volumes of accounts from legacy information systems in G-Suite, AWS, OpenText, IBM, Box, or other solutions to the Microsoft Content Services platform, driven by SharePoint and OneDrive.
Summit 7 was of interest to Microsoft and the program due to dozens of projects implementing architecture for content assets of varying levels of sensitivity (CUI, CDI, ITAR, company proprietary). These solutions built upon the Office 365 GCC High platform provide operational value, while ensuring governance and control. Below is a list of Charter Members.
"Microsoft Content Services has evolved from a SharePoint-centric solution set to now include OneDrive, Teams, Groups, and more" says Scott Edwards, President and Managing Partner at Summit 7 Systems. "Many of the Defense Industrial Base (DIB) are adopting content and collaboration cloud solutions for the first time but do not want to forsake security and compliance. This program allows us to highlight our clients' distinct digital transformation stories."
ADVISORY: Helping plan for new systems (Office 365 GCC High and Azure Government) and improvements to existing information systems
IMPLEMENTATION: Installing new systems, including planning, deployment, training, and support
COMPLIANCE: Managing regulatory and product control information, company policies, and records throughout their lifecycle
Business Applications Partner Program
Summit 7 is the only Security and Compliance services and solution company of 37 in the Microsoft 365 Business Applications Partner Program. Many of Summit 7's clients today have a powerful platform in Office 365 but do not have the resources, time, or expertise to use the automation and visualization tools within the Power Stack (PowerApps, Flow, PowerBI). Summit 7 provides solutions to optimize critical business processes, improve workflow, and simplify tasks to enable security and compliance.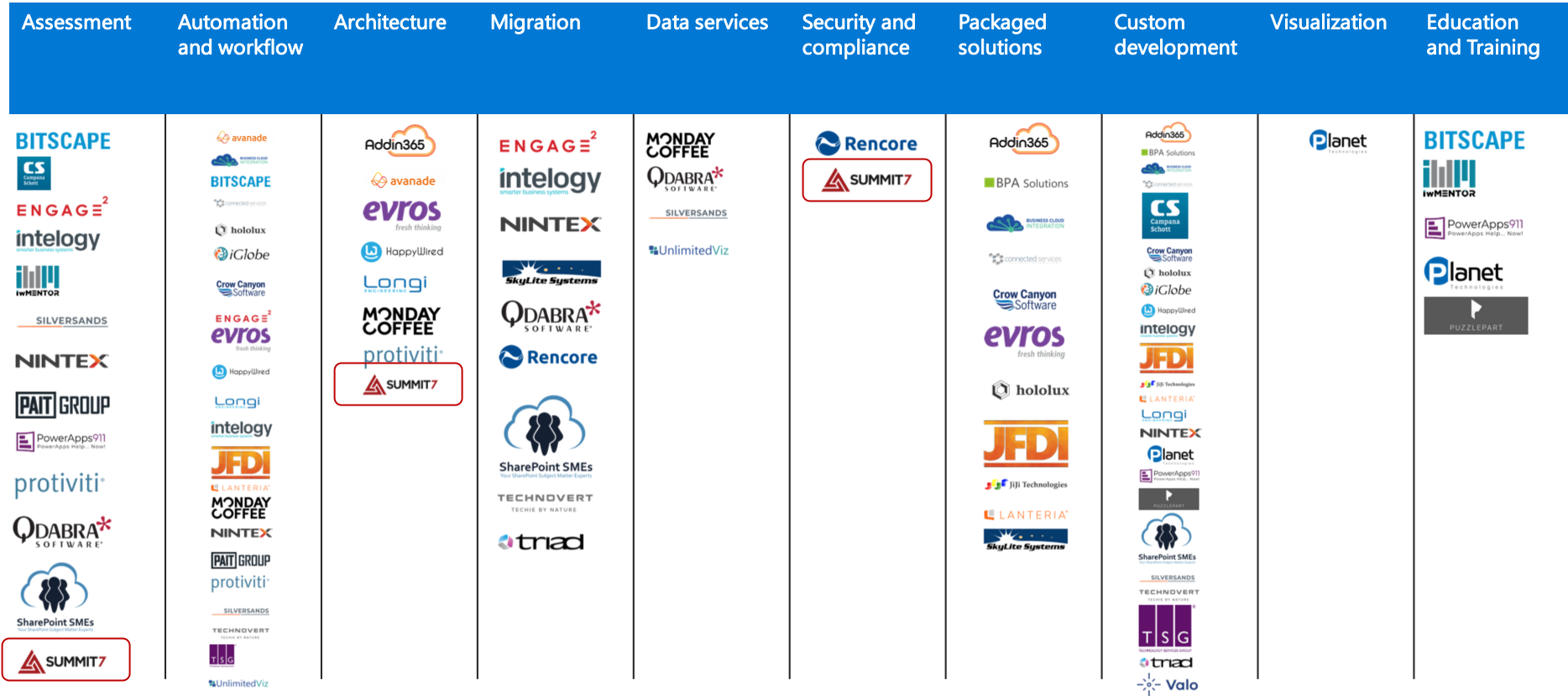 "We are eager to help equip our clients with modern applications and drive adoption of Microsoft 365 tools for greater ROI on their Office 365 GCC High investment," says Ben Curry, Principal Architect and Managing Partner at Summit 7 Systems.
ASSESSMENT: Assessing your existing forms, apps, and workflows (Nintex, PowerApps, Flow, etc.) and planning for the future (operational/security/and compliance goals)
ARCHITECTURE: Architecting solutions and approaches to help organizations succeed within their unique security requirements
SECURITY AND COMPLIANCE: Managing security and compliance of data throughout lifecycle and creating solutions to meet the full scope of security, such as the Visitor Management Solution
To follow Summit 7 Systems and learn about security and compliance solutions, subscribe to the blog or find insightful video content via YouTube..