As part of the Windows 10 reveal last week, Microsoft took the wraps off the universal Windows 10 version of Office (I'm still not sure what we're calling it, so I'll stick with "Universal Office".) Part of that reveal was a new, touch-enabled version of Outlook for Windows 10 devices. In my post discussing that announcement, I raised some questions about what Universal Outlook might portend for other devices and clients... such as OWA for Devices. It looks like the answer to my question about the fate of OWA for Devices is simple: Microsoft has released Outlook for iOS and Android, so it's fair to say this about OWA for Devices: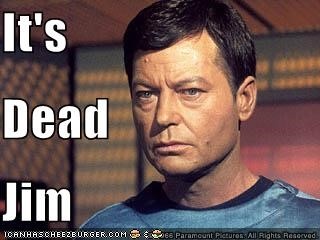 There are tons of reviews already that focus on the app and its feature set, so I won't try to duplicate them. (Note that lots of what I write might apply to the Android version, but I haven't used it and will therefore just keep quiet about it). If you previously used the Acompli client, you'll find that this version of Outlook is a rebranded version of that client; there is little new in the user experience or interface. If you haven't used Acompli before, then you're in for a treat. The rebranding doesn't change the fact that this new version of Outlook is far faster than OWA for Devices. On my 3rd-generation iPad it is at least as fast as Apple's native Mail application. I didn't measure sync performance.
The new Outlook offers a decent calendar and contact management feature set, including a useful "recent people" view (which seems to re-sort itself more or less at random; it doesn't seem to be tied to the existing Outlook/OWA nickname cache, nor to the data used to generate the People view in OWA). Out of these features, perhaps my favorite is the "Send Availability" feature, which lets you quickly give a recipient some idea of when you're available to meet, like this: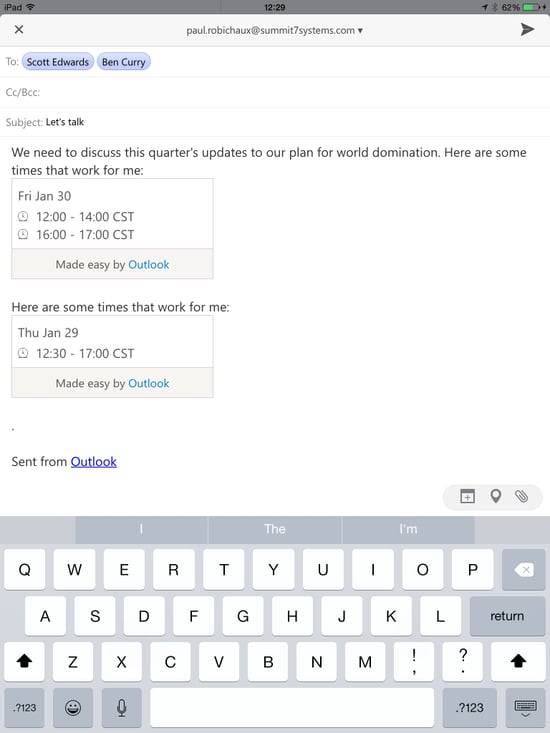 Note that there are two "Here are some times.." blocks; you can't select multiple days in a single operation, so you have to do it once for each time. You also can't change the format or appearance of the blocks, and when the recipient gets them they have to manually schedule a meeting.
Killer feature alert: you can set separate notification sounds for each account you've created!
I'm slightly less thrilled with the function that allows you to create a meeting invitation directly within the message composition window. When I sent an invite from Outlook on my iPad and opened it with Windows Outlook 2013, it inexplicably showed up in the UTC time zone. Since I am neither in Monrovia nor Reykjavik, this didn't make any sense, and the location and meeting subject were both blank. The latter turned out to be because I didn't notice that the meeting invitation form that appears has subject and location fields; the ugliness of the iOS 8 date picker distracted me. If you supply a subject for the meeting in this form, it replaces your original message subject when you dismiss the meeting invitation.
The promise of being able to quickly include a link to a cloud-stored file in a message really sounded great too. Why should I have to include a file (possibly downloading it onto my mobile device) when I could just send my recipient a link to the file(s) on OneDrive or Box? Outlook includes this feature, but in my tests with OneDrive it worked inconsistently. Sometimes choosing a OneDrive file gave me a message that said, rather unhelpfully, "Error", while other times it worked flawlessly. It seems like the problem I encountered may have been with a back-end service that generates a link to the attachment, so perhaps it will clear up on its own. The file you add appears as an ordinary hyperlink, but I prefer the presentation that OWA uses (as illustrated below) because it clearly shows the recipient that they're getting a file. This is a minor detail, of course. (It's not clear whether Outlook is intended to work with OneDrive for Business yet. I added ODB to my iOS OneDrive app, but I could not see ODB files in Outlook, either by design or circumstance).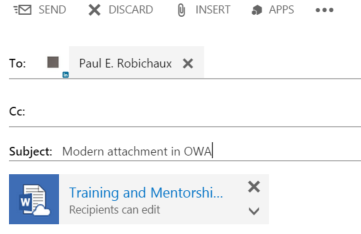 In the not-so-minor-detail department, there are some things missing from Outlook. You can say that reflect the haste with which Microsoft turned the Acompli client into Outlook, but remember that the acquisition is only a couple of months old. It's more accurate to say that Acompli didn't include these features because, as a startup, they had to focus their attention on features that would be attractive to the largest number of customers possible. Since the acquisition, the team has undoubtedly been busy integrating into Microsoft as a whole and the Office team in particular—something that will take longer than 60 days! Here's a list of a few of the key missing items:
There's no way to look up free/busy times for users whose data you have access to; you need the native iOS calendaring app for that.
Contacts on the device and contacts (or "people" in Outlook-speak) aren't synchronized directly. You also don't see Exchange contact photos for people in the Outlook client.
There's no way to control how much mail is synced on the device: you get one month's worth. As with OWA (and unlike the native app), you can still search older messages.
Outlook doesn't have any notion of the existence of the Clutter folder (or feature). Although Outlook's Focused view offers roughly similar functionality, if Clutter is enabled for your mailbox it will be moving messages before Accompli ever has a chance to apply Focused view to them. For that matter, Outlook doesn't display any of the other features native to the Office 365 version of Outlook, such as the People view.
There's no access to the Exchange global address list. In fairness, it took Apple quite some time to add this functionality to their client, and having a "recent people" list helps take the sting out of its absence.
You can't read or create messages protected with AD RMS, so you might not want to throw away OWA for Devices just yet if you use RMS heavily.
You don't get access to your archive mailbox (if you have one enabled).
There has been some online flapping about the security of the client, but I think Tony Redmond has it right: the client's behavior is a nonissue. It's not a security compromise in any way. It is true (and Microsoft, and Acompli before them, fully disclose) that the client downloads your mail to their servers for filtering and processing, which of course requires them to store your service credentials. (By the way, the same thing happens in Office 365 when you add a connected IMAP or POP account, and with Gmail in various circumstances.) And it's also true that there are some organizations that won't want to allow this, which is certainly fair. For that matter, I still have customers that won't let their users use OWA or Outlook Anywhere because they're accessible from potentially untrusted machines. It's all about tradeoffs between risk, usability, and convenience. In this case, letting Outlook store your Exchange credentials is a tradeoff you're making for functionality, and it is a perfectly reasonable one.
The good news: if you feel that this tradeoff isn't one you're willing to make, you can easily block Outlook using the Exchange allow/block/quarantine mechanism, as helpfully explained by Exchange MVP Paul Cunningham here.
A few folks have pointed out the irony that this Microsoft application uses servers hosted on Amazon Web Services. This is to be expected given the very short interval since the acquisition, and Microsoft is already working to change that. As Tony says, it seems likely that Microsoft will then offer the same sorts of privacy assurances as Office 365.
Despite these limitations, the new Outlook is a pleasure to use; it is quick and offers some very useful functional upgrades compared with OWA for Devices and Apple's native apps. It is a far better client for triaging mail than OWA for Devices or the native Apple client, even if you're not using Exchange. I hope, and expect, that Microsoft will keep up a quick release cadence to improve it, both by adding features that OWA has but also taking full advantage of native platform features for iOS and Android to integrate more closely with other apps.
Of course, it remains to be seen how this version of Outlook will compare in performance, stability, and functionality to Universal Outlook—that's the big question for now.