I challenge you to a challenge of all challenges… Yes, you read that right, incorrect grammar and all.
The other day, I had the epiphany that I actually like working with SharePoint and building out business solutions with workflows. Umm…who was I kidding; I really just like using Nintex and figuring out how to make business automation better.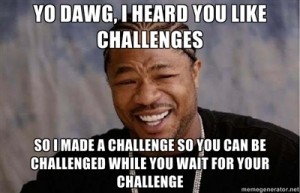 So here's where the title comes around full circle. Since I enjoy a good challenge, I thought I'd share some love this year, and pay it forward in a different way. No, I'm not getting paid to do this; it is out of the kindness of my little, beating heart. But if you want to pay me, I won't turn down a donation, just make the check out to me.
Challenge Info:
From the moment of this posting until midnight of February 14th, I will be accepting challenges related to Nintex Forms and Workflows. As a 2014 Nintex Champion, I want to help you figure out a solution to your challenge if possible.
But wait, the gift of love does not stop there...
I'm making this a two part challenge so that more people can participate – Oh yea!
The Newbie Challenge - If you have SharePoint 2010 or SharePoint 2013 (on-premise), and have considered getting Nintex for your environment but don't have it yet; choose this challenge.
The Stomp the Champion Challenge - If you have a business problem you would like to automate or a workflow that you would like some help to complete; choose this challenge.
That's awesome right, but you may be wondering if there is a catch. Well, let's be honest, who wouldn't have a catch to a deal like that? Just keep reading, the catch is so simple, GEICO might actually be jealous.
Should you choose to challenge me, there are a few things I would really like for you to do. See below:
You MUST share this blog and I've made it easy for you. Just use the social media options located at the bottom of this blog. Simply share this with someone else, even if it's your Aunt Agnos.
You should leave a comment below letting me know that you are submitting something; this helps me know you aren't sending me spam and it's right there below the share options. Wow!
Your submission MUST include your requirements and business process documented as best you can. I obviously need to know what your challenge is. Also include "Newbie Challenge" or "Stomp the Champion Challenge" in the subject line.
Your submission must be received in my inbox (eric.harris (at) summit7systems.com), no later than February 14th at midnight.
I will take it from there and I, along with a group of my colleagues, will decide if your submission is the winner. If your submission is selected, you will be notified via email and I will work through the month of February to mock up a sample solution for you based on your requirements.
That's it…. Time is short, so finish reading, share it, post your comment and get to challenging!
The fine print (you know that legal stuff they make people read)
When submitting your challenge please understand that I have a full time job, so I cannot take on automating your entire sales process (unless you want to of course pay me for that). Seriously, the clearer your submission is, the easier I will see what your exact challenge is. I am also limited to what I can create within SharePoint 2010 or SharePoint 2013 and what is available in my development environment.
While I'm no genius, I'm willing to take a stab at it. Depending on your solution, I may use something similar to it as an example blog, and you'd get the credit for helping create the challenge. I can't actually guarantee that I can create something magical, but I can promise I will make an effort. The purpose is to provide find out what you're challenged with and figure out a solution together.
So let the games begin, and may the odds be ever in your favor.