So if you know anything about SharePoint whether 2007, 2010 or even 2013 it's still not too easy to brand and change how things look. Microsoft has made an effort to push users into either heavily customizing (requires a developer/designer of some sort) or keeping the brand and changing the look and feel (power end users). If you're like me, sometimes you don't want to overhaul the master page to make some changes. Also, when designing solutions you sometimes want to empower the actual users to control some things without needing extra permission. If you're in a similar position, then this blog is just for you. Here is a quick tip using all out-of-the-box functionality and ABSOLUTELY NO CODE! Yep, I wanted emphasis on that for a good reason.
I'm sure if you've been on a SharePoint 2013 Team site you've seen one of many new looking web parts such as the "Getting Started with your site". I usually ignored this little feature until I need to completely revamp my front page. After looking for some cool stuff to do, I thought, it would be really nice if I could do that with another list for my own site template.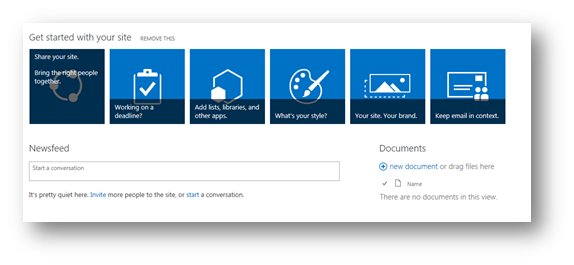 I started digging around trying to figure out how they made this web part work. After a while of breaking things and deactivating stuff that just didn't fit the bill, I found my culprit and devised an evil plan to create my own.
What is the web part?
The web part just as is comes from the "Site Feature – Getting Started". Note this is automatically activated with the team site. NICE Right? Maybe not, but they also provide a little link to remove this which is helpful. It doesn't deactivate the feature, just removes the web part from the page. The web part uses a content type called "Promoted Links" which you may have seen in the Apps catalog for your site.

How does it work?
Promoted Links App, just like the Getting Started web part, has a style built in that allows for a picture style, some nice overlaying actions and navigation to a specified hyperlink. This is basically a glorified Links List in all reality, but a nice way to create a link for your users with some really cool images and words.
Setting up your custom links:
To do this, follow these steps:
Click on the Gear in the upper right hand corner
Click on Add an App
Find the Promoted Links App
Add a title to your app and save
Adding new links:
When you first open up the Promoted Links App (List) you are presented with this view. Not sure why they didn't take you to the All Promoted Links view automatically, but they didn't build it that way. So to help yourself out, since there aren't any links, click on the blue link there "All Promoted Links".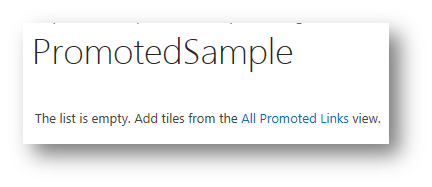 You will then see the familiar view for a list. Click on "New Item" to add your links.

Here you will see an edit form for the links. The fields needed are as follows:
Title – This is the title of the link and what users will see before they click or hover over the item
Background image – This is a cool feature. You can add an image that shows up behind your text and adds style to your site.
Description – This will also show up on the image. It will render underneath the title and give more information about your image or link
Link Location – This is the actual location you want to take your user to.
Launch Behavior – I like this because it does the hard part for users not sure about how links work otherwise.

In-Page Navigation – This simply means the linked page will replace the current page.
Dialog – This simply means the linked page will open in a dialog window on top of the current page
New tab – This means that the linked page will open in a new tab.

Order – This helps control which link shows up first in your web part.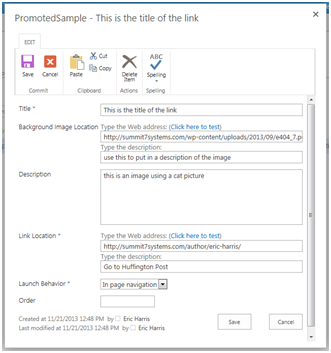 Once you finish creating your link, click save. You will then see your link like the below image. Now it's time to put that link on a page and get on with life.

Adding Promoted Links to a page
Navigate to the page of your choice, click on Page at top in the ribbon or Edit Page from the gear. In your page, click on the Ribbon and hit insert or click on Add a Web Part within a zone to pull up the Apps area.

Click on Add and you should see your links show up in the page just like below. That's it, save the page and get back to real work :) Just kidding, there are a lot of things you can do with this, and that's totally up to you, but I think its really cool to make some links nice and informative for the users. The first image is the Promoted link as normal and the second image is the promoted links with the mouse hovering over it. Cool Huh?