I had previously blogged on the Importance of SharePoint Events and the responses I have received and overheard from attendees just confirmed my points. You learn a lot in a dynamic environment like a SharePoint Saturday Event. Not to mention, the number of people you meet who become a support structure for you in your career. I saw people having deep technical discussions about issues they were having with their SharePoint projects, and I heard tons of laughter as people bonded over the challenge that is SharePoint. We really are social creatures, and I know I like putting real faces with the blogs and twitter post I see on a day to day basis.
I had the honor of both speaking and serving on the organizing committee for the first SharePoint Saturday in Nashville, TN. The turnout was great and the sessions I attended and others I heard about were outstanding. This was the first time I have helped in organizing a SPS event. Let me tell you, there is a lot to do. Many thanks to those on the team with me: Daniel Glenn (@DanielGlenn), Cathy Dew (@catpaint1), Nesha Lankford (@0NENE), Elizabeth Hutson (@CTSHutson), Brian Purdes, any others I missed and all the volunteers and sponsors who helped make it possible.
My session was on Forms Based Authentication and Custom Login Pages. I even threw in a little jQuery that I used in my most recent project with FBA. I have received tons of great feedback, and I thank you all for your encouragement and kind words. This is a fairly niche subject matter. Not everyone in the SharePoint world will mess with FBA, but if you ever do, it can be less daunting to follow someone else through. That is why I present. Because someone walked me through it at some point in the past. Knowledge doesn't reach its full potential until it is shared. There is a link below to my slide deck from SharePoint Saturday Nashville. Just fill in the form "right-quick" and it will be e-mailed to you, or you can download it using the link that appears below the form.
[content_half]
DOWNLOAD MY SPS NASHVILLE SLIDE DECK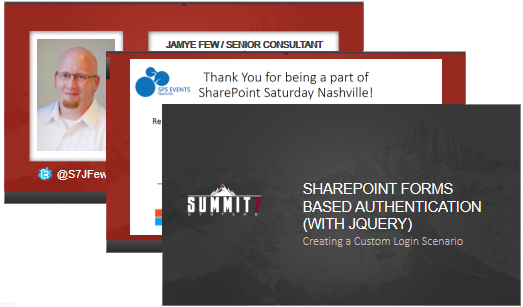 [/content_half]
[content_half id="last"]
[email-download download_id="9821" contact_form_id="9819"]
[/content_half]
At the request of an attendee, I did an impromptu demo of a way to update the web.config files for FBA via a full solution (WSP). This was not fully fleshed out although I have received several comments and requests for more information on this. I will be working on getting that information into a blog (or series of blogs) as soon as I can (regular work not withstanding). Be patient with me and keep checking our blogs for lots of other great information while you wait.
Happy SharePointing!