What is CMMC?


The Cybersecurity Maturity Model Certification, or CMMC, is the next stage in the Department of Defense's (DoD) efforts to properly secure the Defense Industrial Base (DIB) and its supply chain. The DoD announced in the middle of 2019 that it is creating a cybersecurity assessment model and certification program. Several versions of CMMC were publicly released since that time: 0.4. 0.6, 0.7, and CMMC 1.0 and 1.02.
As the image below details, Level 4 requires organizations to practice "Proactive Cyber Hygiene", while having "reviewed" security processes and methods for "reducing risk of Advanced Persistent Threats (APT)s and increasing protection of CUI". For contractors in the DoD, Level 4 compliance may be more uncommon than Level 3, as it will be contractually required far less in RFPs and is seen as more of a transitional step to Level 5. It is also an increase in responsibility and likely cost.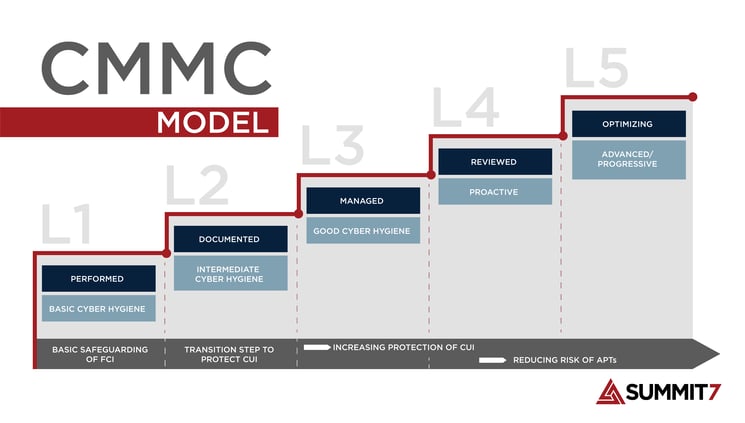 In prior years, contracting authorities and prime contractors would request a System Security Plan (SSP) and Plan of Action and Milestones (POA&M) as self attestation for DFARS 252.204-7012 compliance. This request from contracting authorities was post award, and several companies received severe penalties through False Claims Act (FCA) settlements for misrepresenting their cybersecurity efforts. Defense Contract Management Agency (DCMA) has recently increased its efforts to audit companies as well.

CMMC contrasts DFARS 7012 by forcing the requirement before award, or at 'award-time'. Contractors will be evaluated based upon the implementation of actual technical controls in addition to their documentation and policies. These evaluations will lead to a Level certification of 1 to 5, 5 being the most secure. Levels are cumulative, meaning a Level 4 certified organization will need to meet the practices found in Levels 1, 2, 3, and 4.
FAQ: How far down the supply chain are the 3rd party audits required? Is this only for prime contractors or does it filter to lower level suppliers such as subcontracted machine shop work?
According to The Office of the Under Secretary of Defense (OUSD), the CMMC level requirement will flow down to all subcontractors regardless of size or function. It is likely that CMMC requirements will be broken apart by tier - i.e for RFP A1B2C3D44 Prime Contractors are required to be CMMC Level 5 upon proposal and all listed Subcontractors must meet CMMC Level 2. They also state all future RFPs will require a CMMC level regardless of handling Controlled Unclassified Information (CUI).
Access a more detailed explanation and overview of CMMC, as well as history and background here.